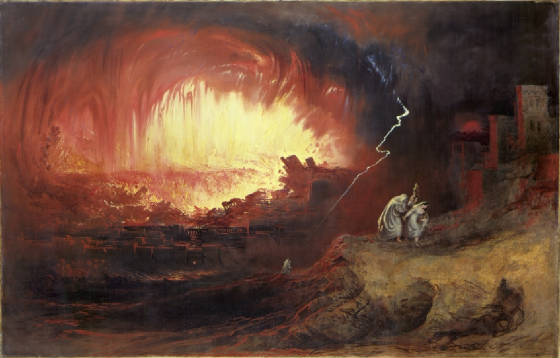 "And the LORD appeared unto him [Abraham] in the plains of Mamre: and he sat in the tent door in the heat of the day; And he lift up his eyes and looked, and, lo, three men stood by him: and when he saw them, he ran to meet them from the tent door, and bowed himself toward the ground, And said, My Lord, if now I have found favour in thy sight, pass not away, I pray thee, from thy servant: Let a little water, I pray you, be fetched, and wash your feet, and rest yourselves under the tree: And I will fetch a morsel of bread, and comfort ye your hearts; after that ye shall pass on: for therefore are ye come to your servant. And they said, So do, as thou hast said... [v.20] And the LORD said, Because the cry of Sodom and Gomorrah is great, and because their sin is very grievous; I will go down now, and see whether they have done altogether according to the cry of it, which is come unto me; and if not, I will know. And the men turned their faces from thence, and went toward Sodom: but Abraham stood yet before the LORD. And Abraham drew near, and said, Wilt thou also destroy the righteous with the wicked? Peradventure there be fifty righteous within the city: wilt thou also destroy and not spare the place for the fifty righteous that are therein? That be far from thee to do after this manner, to slay the righteous with the wicked: and that the righteous should be as the wicked, that be far from thee: Shall not the Judge of all the earth do right? And the LORD said, If I find in Sodom fifty righteous within the city, then I will spare all the place for their sakes. Gen.18:1-5,20-26.

There is a lesson to be drawn from this chapter that all who do not believe in Jesus Christ should consider. And I'm not talking about the fire that consumed Sodom and Gomorrah to ashes, nor how the whole city gathered together to join in the public raping of men. No, the lesson is part of my personal testimony and is the most profound lesson calling for my humility before GOD and His faithful children through time.

Before July 21, 1990 I was addicted to tobacco, pot, cocaine and crystal meth. In fact my whole life was one of following my own inclinations whose only restraint lay in the restrictions of laws forbidding my unimpeded indulgence for selfish gratification. And although I had a good upbringing with moments of good deeds and was generally courteous to people I was truly no one's friend. All throughout my life I withheld any thoughts of GOD and even told myself there was no GOD. I was accountable to no one except the laws of restraint in society. I even looked upon Christians as being weak because they looked to Christ for strength. But the reality was this: I owed my day-to-day existence to those who I looked down on. My continued life of cursing GOD and demanding to live in sin was only contingent on the thanksgiving, prayers and alms of "the saints." That's why the lesson of Genesis 18 called for my humility. And it calls for everyone who has never known GOD nor put Him to the genuine test. "O taste and see that the LORD is good: blessed is the man that trusteth in him." Ps.34:8.

As I was cursing GOD every day, violating His Laws of life and health, ushering myself to an early grave, GOD could say to the devil, "One day, My son will give his heart to Me and you will no longer control him." Satan would then say, "NO! LOOK AT HIM! HE'S CURSING YOU RIGHT NOW! WATCH, I'LL GET HIM TO CURSE YOUR SON RIGHT NOW! SEE? But GOD would respond in calm assurance, "One day soon, all will be forgiven in his life, and he will serve Me forever."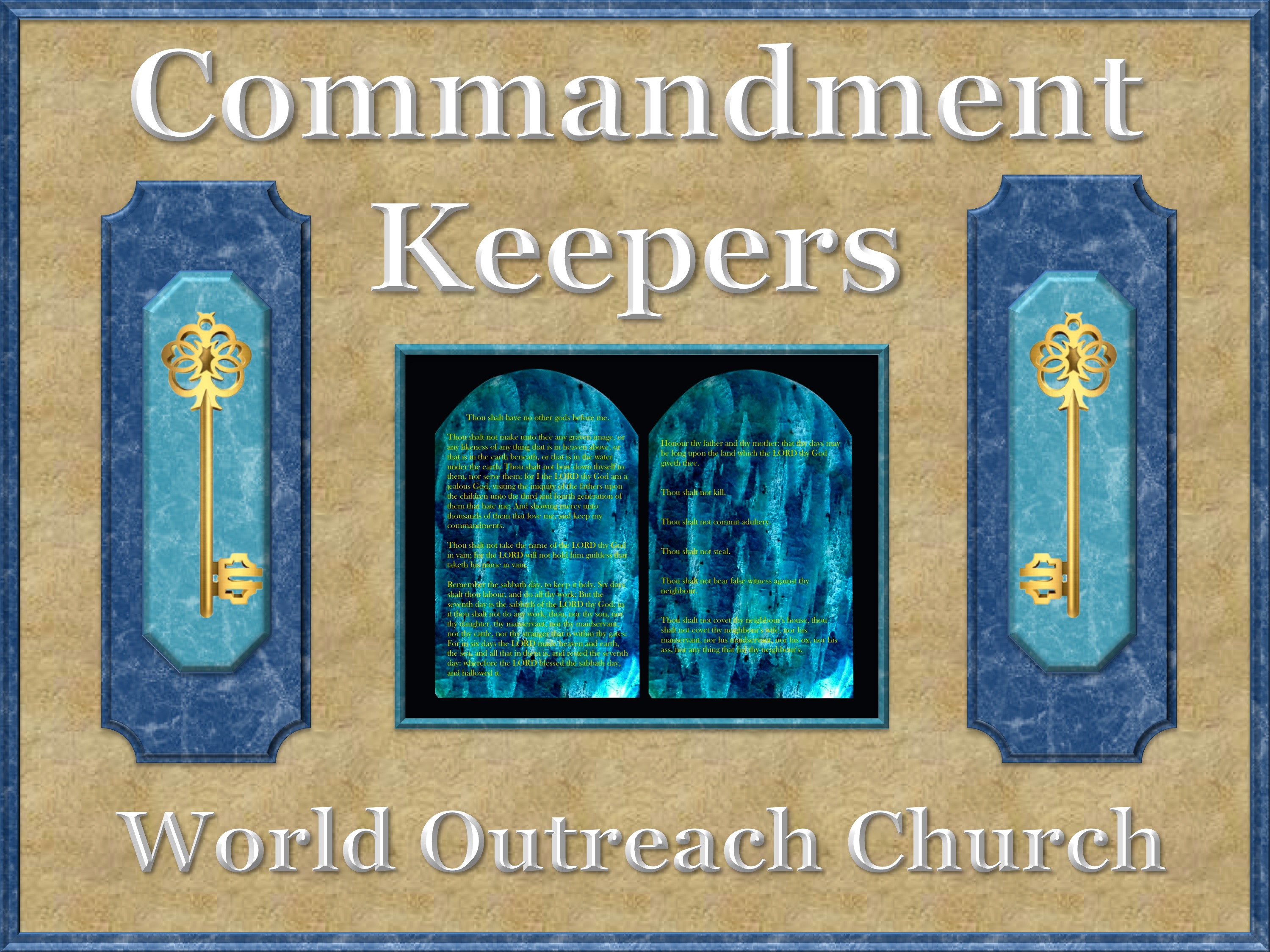 Commandment Keepers invites every Christian to join the closing work of the Gospel of Jesus Christ and establish twelve member groups within your respective country, heralding the titles: Commandment Keepers Kenyan Assembly, British Assemby, Brazilian Assembly, etc. As the Bible teaches, the redeemed of earth will come from "every nation, and kindred, and tongue, and people." Rev.14:6. And all will have stood faithful to Christ's Words, "But if thou wilt enter into life, keep the commandments." Matt.19:17.
To meet the specific cultural needs of the different peoples of the world, a custom tailored witness is vital for successful evangelism. While the message of Salvation through the Creator/Christ is universal in its scope, people's cultural affections vary greatly from land to land. What can bring tears of joy to one group can actually harden the hearts of another.
To receive this ministry outline click "The Evangelists" below. It contains all the materials needed to succeed in this invaluable type of ministry.
Two reasons for the need of small church companies at this time in history:
1. There are six branch ministries, which cover all areas of the closing gospel work, providing each member with an invaluable task. Teamed up in pairs for each of the branch ministries, none will sit on the sidelines, feeling useless, and where each have equal value to the success of the ministry's work.
2. Economic streamlining has become an essential factor in the closing work. As America and other countries proceed in their place in Bible prophecy a structure of ministry must be in place to carry out the Savior's closing work on the minds and hearts of the people just at the time it is needed the most.
This efficient, low cost approach to the closing work will be lavished with GOD'S blessing. Each of these small church companies will be given an eloquent, persuasive testimony by GOD: to share in the most privileged work on Earth: enlightening the world with His Glory: His redeeming love found in the truth, as the truth is in Jesus:" as Creator of heaven and earth; what He has done: as bearing the punishment for the sins of men; and what He is doing: interceding on behalf of His faithful children who are continuously accused of the devil; and what He will do: deliver His faithful children when He comes again.
Through His Presence, Guidance and Intervention, the faith of Bible literate and obedient Christians will swell to a lofty summit, preparing them for the coming of the LORD.
Lastly, no tithe is required except to budget your ministry's needs.
Liberty Seminars: Bible Prophecy: Your Key To The Future
Commandment Keepers
2116 Linden Highway
Hohenwald, TN 38462