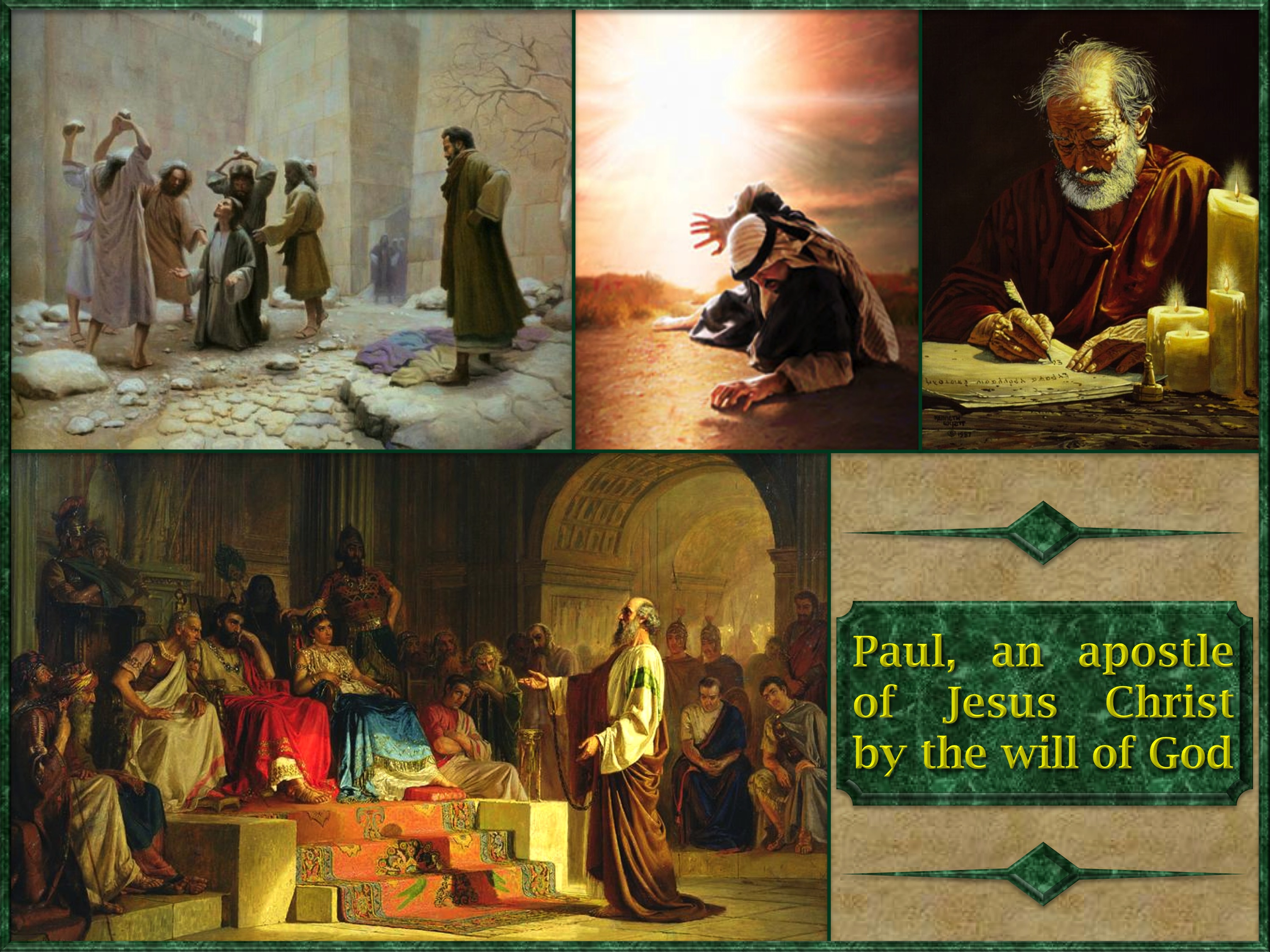 FROM SAUL OF TARSUS TO PAUL THE APOSTLE


The manner through which GOD reaches the hearts of His children is as diverse as the stars of heaven. And the power through which GOD reaches His children has always been through the "still small voice" of the Holy Spirit. And the tugs on the heart are never through coercion or fear, but always through love.

Such was the case with the conversion of Saul, of Tarsus. He was Judaism's leading proponent to crush this new fledgling movement of men called Christians. Saul had them imprisoned, dragged before tribunals, condoned their properties to be confiscated, and rejoiced at every shameful deed that could be inflicted on the this fledgling church of Jesus Christ as he acknowledged later in his epistle: "Concerning zeal, persecuting the church; touching the righteousness which is in the law, blameless." Phil.3:6.

But a seed of salvation was sown into the heart of Saul that sprang forth to His conversion to the Gospel of Jesus Christ. It was at the stoning of one of these new Christians: "The witnesses laid down their clothes at a young man's feet, whose name was Saul. And they stoned Stephen, calling upon God, and saying, Lord Jesus, receive my spirit. And he kneeled down, and cried with a loud voice, Lord, lay not this sin to their charge. And when he had said this, he fell asleep." Acts 7:58-60. Saul said in his heart, 'What was this? Why did this man forgive us for stoning him? Why did he return the gentleness of love to us in response to our violent hatred of him?' Those words of Stephen haunted Saul. Saul had also seen this "Holy Spirit" in the lives of other Christians who responded in like manner toward those who bitterly opposed their faith.

So, as Saul was on his way to Damascus to round up more of these "Christians" Jesus met him by the way: "And Saul, yet breathing out threatenings and slaughter against the disciples of the Lord, went unto the high priest, And desired of him letters to Damascus to the synagogues, that if he found any of this way, whether they were men or women, he might bring them bound unto Jerusalem. And as he journeyed, he came near Damascus: and suddenly there shined round about him a light from heaven: And he fell to the earth, and heard a voice saying unto him, Saul, Saul, why persecutest thou me? And he said, Who art thou, Lord? And the Lord said, I am Jesus whom thou persecutest: it is hard for thee to kick against the pricks. And he trembling and astonished said, Lord, what wilt thou have me to do? And the Lord said unto him, Arise, and go into the city, and it shall be told thee what thou must do. And the men which journeyed with him stood speechless, hearing a voice, but seeing no man. And Saul arose from the earth; and when his eyes were opened, he saw no man: but they led him by the hand, and brought him into Damascus. And he was three days without sight, and neither did eat nor drink. And there was a certain disciple at Damascus, named Ananias; and to him said the Lord in a vision, Ananias. And he said, Behold, I am here, Lord. And the Lord said unto him, Arise, and go into the street which is called Straight, and enquire in the house of Judas for one called Saul, of Tarsus: for, behold, he prayeth, And hath seen in a vision a man named Ananias coming in, and putting his hand on him, that he might receive his sight. Then Ananias answered, Lord, I have heard by many of this man, how much evil he hath done to thy saints at Jerusalem: And here he hath authority from the chief priests to bind all that call on thy name. But the Lord said unto him, Go thy way: for he is a chosen vessel unto me, to bear my name before the Gentiles, and kings, and the children of Israel: For I will shew him how great things he must suffer for my name's sake. And Ananias went his way, and entered into the house; and putting his hands on him said, Brother Saul, the Lord, even Jesus, that appeared unto thee in the way as thou camest, hath sent me, that thou mightest receive thy sight, and be filled with the Holy Ghost. And immediately there fell from his eyes as it had been scales: and he received sight forthwith, and arose, and was baptized." Acts 9:1-18

The words of Christ to Saul, "it is hard for thee to kick against the pricks" are for every man and woman who resist the call of the Holy Spirit on their hearts to "taste and see" the glory of the love seen in the life of Jesus Christ. In the case of Saul, a new direction began, who from that moment forward became the Apostle Paul. "Saul" in the language means "Great," while "Paul" means "little." In receiving the call of GOD a response of humility is always given. Jesus was clear in His admonition: "When thou art bidden of any man to a wedding, sit not down in the highest room; lest a more honourable man than thou be bidden of him; And he that bade thee and him come and say to thee, Give this man place; and thou begin with shame to take the lowest room. But when thou art bidden, go and sit down in the lowest room; that when he that bade thee cometh, he may say unto thee, Friend, go up higher: then shalt thou have worship in the presence of them that sit at meat with thee. For whosoever exalteth himself shall be abased; and he that humbleth himself shall be exalted." Lu.14:8-11.

But in Saul's sudden change of heart the Christians were very guarded and even doubting concerning Saul's conversion. But there was one who believed the Holy Spirit now resided in the heart of Paul and stood with him and defended him against the accusers: "But Barnabas took him, and brought him to the apostles" (9:27).

In the billows of remorse, the new Apostle, who was called to the Apostleship by Jesus Himself, wanted to undo the harm he had done to all those in the church whom he had persecuted. He could've spent the rest of his life working to undo the wrongs he had done. But the LORD commanded him to preach the Gospel to the Gentiles. The LORD would see to it that the word would get to those in prison. They would hear: "he that destroyed them which called on this name," Jesus Christ, now stands among their number. And they praised GOD for His mercy to Saul. Paul understood that he was powerless to undo the harm he had done, and in obedience to the LORD'S command he carried out the mission of the Gospel. "This one thing I do, forgetting those things which are behind, and reaching forth unto those things which are before, I press toward the mark for the prize of the high calling of God in Christ Jesus." Phil.3:13,14. This principle applies to all of us who, laden with regret hear the LORD'S command, "Son, be of good cheer; thy sins be forgiven thee." "Go home to thy friends, and tell them how great things the Lord hath done for thee, and hath had compassion on thee." "Go ye into all the world, and preach the gospel to every creature." Matt.9:2; Mk.5:19; 16:15.

Of all the Apostles of Jesus Christ, Paul was the one who was best educated to meet the various obstacles to the Gospel that would be placed in his path. This is why the LORD said, "he is a chosen vessel unto me." "And God wrought special miracles by the hands of Paul: So that from his body were brought unto the sick handkerchiefs or aprons, and the diseases departed from them, and the evil spirits went out of them" (19:11,12). In the course of his life, Paul accomplished more for the cause of Christ than any man of his day. Even when Paul stood before Rome's Emperor Nero and gave the Gospel message, members of Nero's own family believed the Gospel and praised GOD for their salvation through Jesus Christ (Phil.4:22).

So, the LORD shows us once again how He can take the least likely man or woman to receive the Gospel; and through His arranging circumstances, orchestrating moments of compassion, and tugging the heartstrings with Love's urge by the power of the Holy Ghost, that least-likely soul will breathe new life: a life that will live forever.