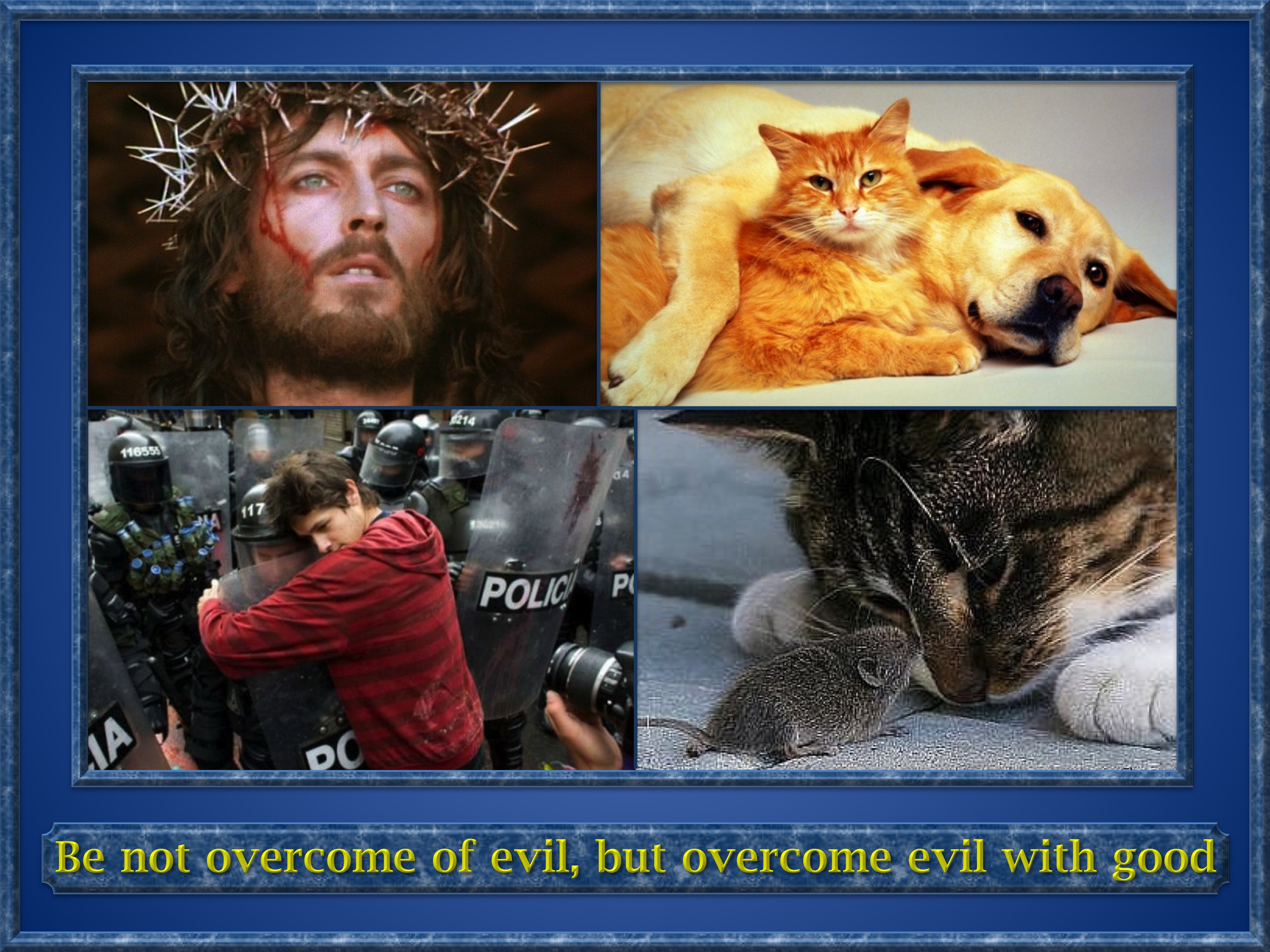 OUR LOVE FOR OUR ENEMIES
MUST EXCEED THEIR HATRED OF US


Matthew 5:43-48 Ye have heard that it hath been said, Thou shalt love thy neighbour, and hate thine enemy. But I say unto you, Love your enemies, bless them that curse you, do good to them that hate you, and pray for them which despitefully use you, and persecute you; That ye may be the children of your Father which is in heaven: for he maketh his sun to rise on the evil and on the good, and sendeth rain on the just and on the unjust. For if ye love them which love you, what reward have ye? do not even the publicans the same? And if ye salute your brethren only, what do ye more than others? do not even the publicans so? Be ye therefore perfect, even as your Father which is in heaven is perfect.

This is a principle that few in the world, and even the church give any consideration. Everything we see in the Gospel of Jesus Christ points to working redemption in everyone's life. The standard of holiness set by Jesus Christ can only be achieved through His Presence in the life. The only love that man has, in and of his own strength, is limited and selfish. But the love that comes from above is "gentle unto all men, apt to teach, patient, In meekness instructing those that oppose themselves; if God peradventure will give them repentance to the acknowledging of the truth; And that they may recover themselves out of the snare of the devil, who are taken captive by him at his will." II Tim.2:24-26.

There are great stories of certain men and women who inspire us to the lofty standard set by Jesus Christ. What is seen in them may be seen in us. The first is seen when Moses stepped in for the Idolatrous Hebrews who quickly turned from GOD to a golden calf that they fashioned to be their god and savior. When GOD told Moses of their great sin at Mount Sinai, that He would destroy them all, and from Moses, establish His covenant through his family, Moses interceded for the apostate family of Abraham: "Yet now, if thou wilt forgive their sin—; and if not, blot me, I pray thee, out of thy book which thou hast written." Ex.32:32. (This hyphen is the only pause in all of Scripture. And that moment of time carries such weight of significance!)

Next, we find this gesture of love's perfection in the life of Abigail, when David was on his way to kill her husband, Nabal, for his great evil of denying David's men food to live from Nabal's large flocks that David's men had watched over. Interceding on behalf of her husband, Abigail stood in the gap: "But one of the young men told Abigail, Nabal's wife, saying, Behold, David sent messengers out of the wilderness to salute our master; and he railed on them. But the men were very good unto us, and we were not hurt, neither missed we any thing, as long as we were conversant with them, when we were in the fields: They were a wall unto us both by night and day, all the while we were with them keeping the sheep…And when Abigail saw David, she hasted, and lighted off the ass, and fell before David on her face, and bowed herself to the ground, And fell at his feet, and said, Upon me, my lord, upon me let this iniquity be: and let thine handmaid, I pray thee, speak in thine audience, and hear the words of thine handmaid…I pray thee, forgive the trespass of thine handmaid: for the LORD will certainly make my lord a sure house; because my lord fighteth the battles of the LORD, and evil hath not been found in thee all thy days. Yet a man is risen to pursue thee, and to seek thy soul: but the soul of my lord shall be bound in the bundle of life with the LORD thy God; and the souls of thine enemies, them shall he sling out, as out of the middle of a sling. And it shall come to pass, when the LORD shall have done to my lord according to all the good that he hath spoken concerning thee, and shall have appointed thee ruler over Israel; That this shall be no grief unto thee, nor offence of heart unto my lord, either that thou hast shed blood causeless, or that my lord hath avenged himself: but when the LORD shall have dealt well with my lord, then remember thine handmaid. And David said to Abigail, Blessed be the LORD God of Israel, which sent thee this day to meet me: And blessed be thy advice, and blessed be thou, which hast kept me this day from coming to shed blood, and from avenging myself with mine own hand. For in very deed, as the LORD God of Israel liveth, which hath kept me back from hurting thee, except thou hadst hasted and come to meet me, surely there had not been left unto Nabal by the morning light any that pisseth against the wall. So David received of her hand that which she had brought him, and said unto her, Go up in peace to thine house; see, I have hearkened to thy voice, and have accepted thy person. I Sam.25:14-16; 23,24; 28-35.

After the Incarnation of Jesus Christ Who came to fulfill the prophecies concerning His First Advent, as 'the suffering servant' (Isaiah 53), His fledgling church had to receive the buffeting hand of Rome and endure great affliction. The first Apostle to be martyred was James, the brother of John, the Sons of Zebedee. Jesus "surnamed them Boanerges, which is, The sons of thunder." Mk.3:17. And we may be sure that James and John lived up to the LORD'S description of them. But the softening influence of the Holy Ghost tempered their passions with wisdom from On High. It has been said that when the apostle James was led out to die, a man who had brought false accusations against him walked with him to the place of execution. He had doubtless expected to see James looking pale and frightened. But he saw him, instead, bright and joyous, like a conqueror who had won a great battle. The false witness greatly wondered at this and became convinced that Jesus Christ in whom James believed must be the true God or He could not impart such cheerfulness and courage as a man who was about to die. The false witness himself, suddenly became a convert to Christ; and then stood alongside James, to be condemned to die with the apostle. Both were consequently beheaded on the same day and with the same sword.

Also in the early days of the fledgling church, in the first century, when Hadrian was emperor of Rome, he waged war against the Christians in the empire. A group of 40 believers gathered together to worship in Northern Italy. Soldiers surrounded them and said, 'Upon order of the Emperor, Your worship of this so­called King of the Jews must cease immediately, or you will be executed.' 'Do what you will,' answered the 40, 'even if it costs our lives.' So the Roman soldiers took them into a mountainous region. It was wintertime, and the small lake in the area was completely frozen over. The captain of the guard said, 'Here is one more opportunity for you to deny Jesus Christ – or we will place you on that lake all night until your bodies freeze.' It is better to freeze for a night than to die for eternity, answered the brave believers. So the 40 believers took off their clothes and sat naked on the ice. With teeth chattering and knees knocking, they sang, '40 Brave Soldiers for Christ' as the Romans looked on and mocked them. Occasionally, the captain would call out, 'Come to your senses, men. Deny Jesus just for a moment. Come and be warmed by the fire and be saved.' But the believers would not budge, and kept singing '40 Brave Soldiers for Christ, 40 Brave Soldiers for Christ'. After an hour or so, one Christian stood up, able to endure the pain no longer. He ran towards the soldiers, saying, 'I deny Jesus the Christ.' And he was welcomed to be warmed by the fire. He couldn't pay the price, and he turned his back on Jesus the Christ. After one of their brothers left and turned away, they still sang, only they changed their song to, "39 Brave Soldiers for Christ'. Then, one of the Roman soldiers observing this scene was so moved that he stripped off his clothes, ran out upon the lake and said, 'No, 40 Brave soldiers for Christ. 40 Brave Soldiers for Christ.'

It is this Standard of Jesus Christ that has been demonstrated throughout the history of the church. Despite the long history of abuse of demon possessed men claiming the Christian faith, the LORD has known His own! And it is this Standard that will be seen as the world divides into only two categories of men: those with "the seal of God" and those with "the mark of the beast." And only those who are literate of the distinction between the two will stand in the end.