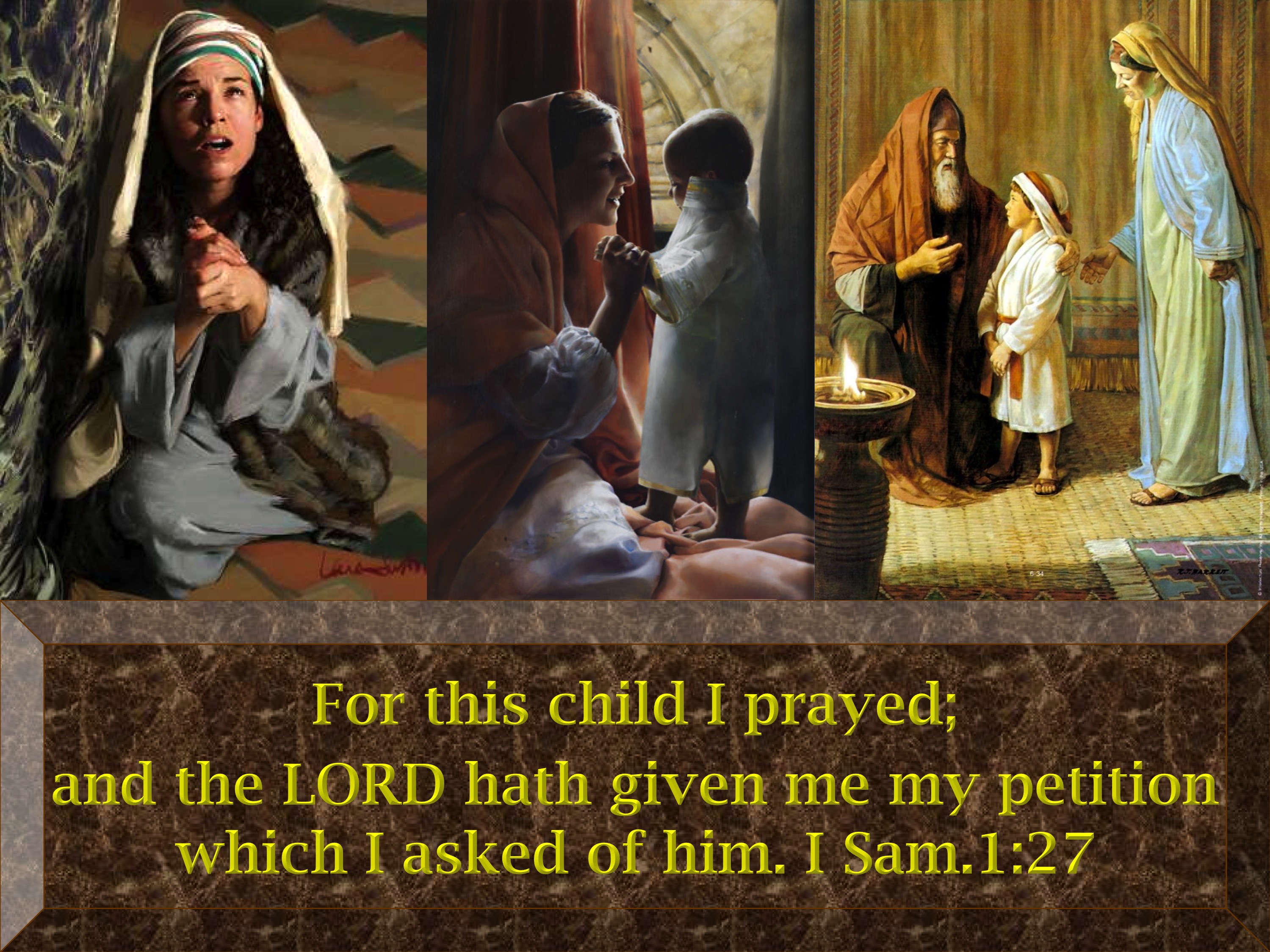 "…the LORD hath given me my petition which I asked of him."

For those of us who will never have children in this world, we can rejoice for those who have had that privilege and joy, and especially the comfort that was granted them as they grew old and saw how their family would continue for generations to come: to live, to love, and to share. But there are those special children who could only be born from Above: the child that stood unique among the other children: the child that could only exist if GOD overruled the woman's total incapability to bear children. Throughout history there have been many who lived out their lives without that special blessing of GOD: the blessing that is unique to the woman: the blessing of the caressing waves of maternal love. In each case of barren women recorded in the Bible they were special ladies who received GOD'S mercy and overruling power.

There are several stories of barren women in the Bible. The first was Sarah, the wife of Abraham. GOD promised faithful Abraham and Sarah that they would bear a son. But many years passed after the promise was given, and still no son. GOD purposely delayed, that His Glory could be seen and men could rejoice in His power to overrule in their behalf, and thus, fortify a key element of our salvation: faith. GOD would not open Sarah's womb to bear a child until she was very old and well passed the age of childbearing. All who witnessed the event of her birth knew that only the power of GOD could perform such a miracle. Her son, Isaac, was truly born from above.

Then came Rebekah. She was the wife of Isaac, and was also barren. "And Isaac intreated the LORD for his wife, because she was barren: and the LORD was intreated of him, and Rebekah his wife conceived." Gen.25:21. Once more, GOD stepped in and overruled the situation to bless His chosen.

Then there came Rachel, the wife of Jacob. She suffered reproach for being barren and it grieved her greatly, even to the point of telling Jacob: "Give me children, or else I die" (Gen.30:1). Some time had passed, and when all seemed hopeless, GOD intervened: "And God remembered Rachel, and God hearkened to her, and opened her womb. And she conceived, and bare a son; and said, God hath taken away my reproach: And she called his name Joseph." Gen.30:22-24. The life of Joseph stands as an example of virtuous character that few among men have demonstrated.

In each case with "the God of Abraham, the God of Isaac, and the God of Jacob" (Ex.3:6) the wives they loved were barren. But in each case GOD intervened to bless them with children for their namesake. And when we look at the characters of each of these patriarchs: Abraham was the father of the faithful; Isaac represents those born from above (as in "born again"); and Jacob was victorious over his unbelief and sin (representing all who will stand in the great company of the redeemed).

Then centuries later there lived the wife of Manoah. Her name is not mentioned. A likely reason for this is that GOD has shielded her from some shame associated with her, most likely through her name (as given names in those days held great meaning for the unique circumstances of their lives at the time of birth). "The angel of the LORD" came to her and told her she would bear a son "and he shall begin to deliver Israel out of the hand of the Philistines" (Jud.13:5). This was none other than Samson, the mightiest human being to ever live on the Earth. She was devoted to her calling and raised him as she was told. He was to be a Nazarite from his birth. The Nazarite vow is a unique vow in the law of Moses. It called for implicit dedication to GOD in everything from diet to worship. It was to give glory to the promise of the coming Messiah who would exemplify living a perfect, sinless life.

And then came Hannah. She too was barren. And in her day, as in previous generations women who could not bear children were viewed as having received the curse of GOD, as if there was some sin in their lives that warranted this retribution from GOD. (This ancient perversion of GOD'S character, seen throughout sinful man's history exists with an equivalent force today. Through pride and prejudice a caste system has always existed, where the disabled, the ill and poverty-stricken are viewed with a degree of shame. But then there's the perversion on the other side of this philosophy: many in the churches insist on teaching a prosperity doctrine that gives attention to financial reward to be the objective and evidence of GOD'S blessing, over and above the character of Jesus Christ). And as a result of this long-held culture among religious men, Hannah suffered greatly. GOD'S character has been slandered every time men take it upon themselves to ill define heaven's moral laws. So, while at the temple during the feast Hannah poured out her heart before the LORD, even swaying and trembling in her prayer of despair. She even vowed to the LORD that if He would grant her petition, that after weaning the child from her breast she would give him up to dedicate his life to the work of the LORD forever: "as long as he liveth he shall be lent to the LORD." I Sam.1:28. In watching her pray, Eli the priest thought she was drunk and reproached her as such. But she shared the burden of her prayer: "Then Eli answered and said, Go in peace: and the God of Israel grant thee thy petition that thou hast asked of him." I Sam.1:17. And the LORD heard her cry, and she gave birth to a son. Hannah was now passionate in her gratefulness and joy: "For this child I prayed; and the LORD hath given me my petition which I asked of him." I Sam.1:27. "And Hannah prayed, and said, My heart rejoiceth in the LORD, mine horn is exalted in the LORD: my mouth is enlarged over mine enemies; because I rejoice in thy salvation." I Sam.2:1. She named her son, Samuel. After weaning him, Hannah took Samuel to Eli to be raised in the priesthood of Israel. She visited her son every year at the feast, bringing him clothing and special gifts that only a mother's love can provide. "And Samuel grew, and the LORD was with him, and did let none of his words fall to the ground." I Sam.3:19.

Lastly, just before the birth of Jesus, there was Elisabeth, the cousin of Mary. "There was in the days of Herod, the king of Judaea, a certain priest named Zacharias, of the course of Abia: and his wife was of the daughters of Aaron, and her name was Elisabeth." "Elisabeth was barren, and they both were now well stricken in years." Lu.1:5,7. As the birth of Jesus drew near, GOD had to raise up a voice to prepare the way for "his only begotten Son." Zacharias was visited by an angel who told him that his elderly, barren wife would bear him a son, and was commanded to name him John. During Elisabeth's pregnancy, Mary came to visit her. And "when Elisabeth heard the salutation of Mary, the babe leaped in her womb; and Elisabeth was filled with the Holy Ghost" Lu.1:41. That babe who leaped in the womb grew up to become John the Baptist: the public herald for the coming Messiah, Jesus Christ.

All of these great stories of GOD'S blessings were recorded for our blessing no less than the lives of those who personally experienced GOD'S wonder working power. For when we read and believe the many stories of GOD'S deliverance in all its forms, our faith is fortified in His great care and love. And this includes the story of Jesus Christ. The LORD Himself promised heaven's blessing to all who read and believe on Him: "blessed are they that have not seen, and yet have believed." Jn.20:29.

"But God, who is rich in mercy, for his great love wherewith he loved us, Even when we were dead in sins, hath quickened us together with Christ, (by grace ye are saved;) And hath raised us up together, and made us sit together in heavenly places in Christ Jesus: That in the ages to come he might shew the exceeding riches of his grace in his kindness toward us through Christ Jesus." Eph.2:4-7.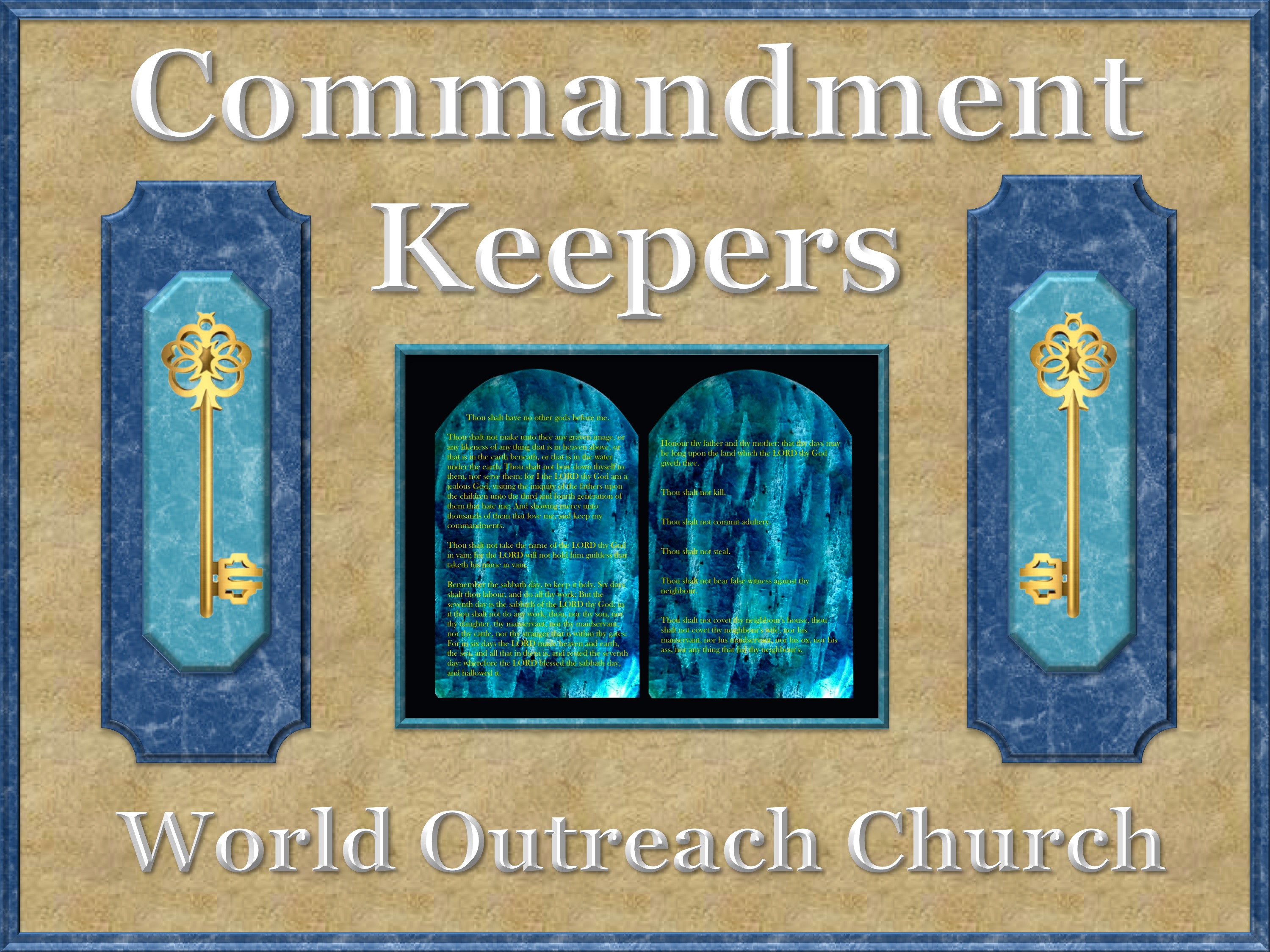 Commandment Keepers invites every Christian to join the closing work of the Gospel of Jesus Christ and establish twelve member groups within your respective country, heralding the titles: Commandment Keepers Kenyan Assembly, British Assemby, Brazilian Assembly, etc. As the Bible teaches, the redeemed of earth will come from "every nation, and kindred, and tongue, and people." Rev.14:6. And all will have stood faithful to Christ's Words, "But if thou wilt enter into life, keep the commandments." Matt.19:17.
To meet the specific cultural needs of the different peoples of the world, a custom tailored witness is vital for successful evangelism. While the message of Salvation through the Creator/Christ is universal in its scope, people's cultural affections vary greatly from land to land. What can bring tears of joy to one group can actually harden the hearts of another.
To receive this ministry outline click "The Evangelists" below. It contains all the materials needed to succeed in this invaluable type of ministry.
Two reasons for the need of small church companies at this time in history:
1. There are six branch ministries, which cover all areas of the closing gospel work, providing each member with an invaluable task. Teamed up in pairs for each of the branch ministries, none will sit on the sidelines, feeling useless, and where each have equal value to the success of the ministry's work.
2. Economic streamlining has become an essential factor in the closing work. As America and other countries proceed in their place in Bible prophecy a structure of ministry must be in place to carry out the Savior's closing work on the minds and hearts of the people just at the time it is needed the most.
This efficient, low cost approach to the closing work will be lavished with GOD'S blessing. Each of these small church companies will be given an eloquent, persuasive testimony by GOD: to share in the most privileged work on Earth: enlightening the world with His Glory: His redeeming love found in the truth, as the truth is in Jesus:" as Creator of heaven and earth; what He has done: as bearing the punishment for the sins of men; and what He is doing: interceding on behalf of His faithful children who are continuously accused of the devil; and what He will do: deliver His faithful children when He comes again.
Through His Presence, Guidance and Intervention, the faith of Bible literate and obedient Christians will swell to a lofty summit, preparing them for the coming of the LORD.
Lastly, no tithe is required except to budget your ministry's needs.
Liberty Seminars: Bible Prophecy: Your Key To The Future
Commandment Keepers
2116 Linden Highway
Hohenwald, TN 38462