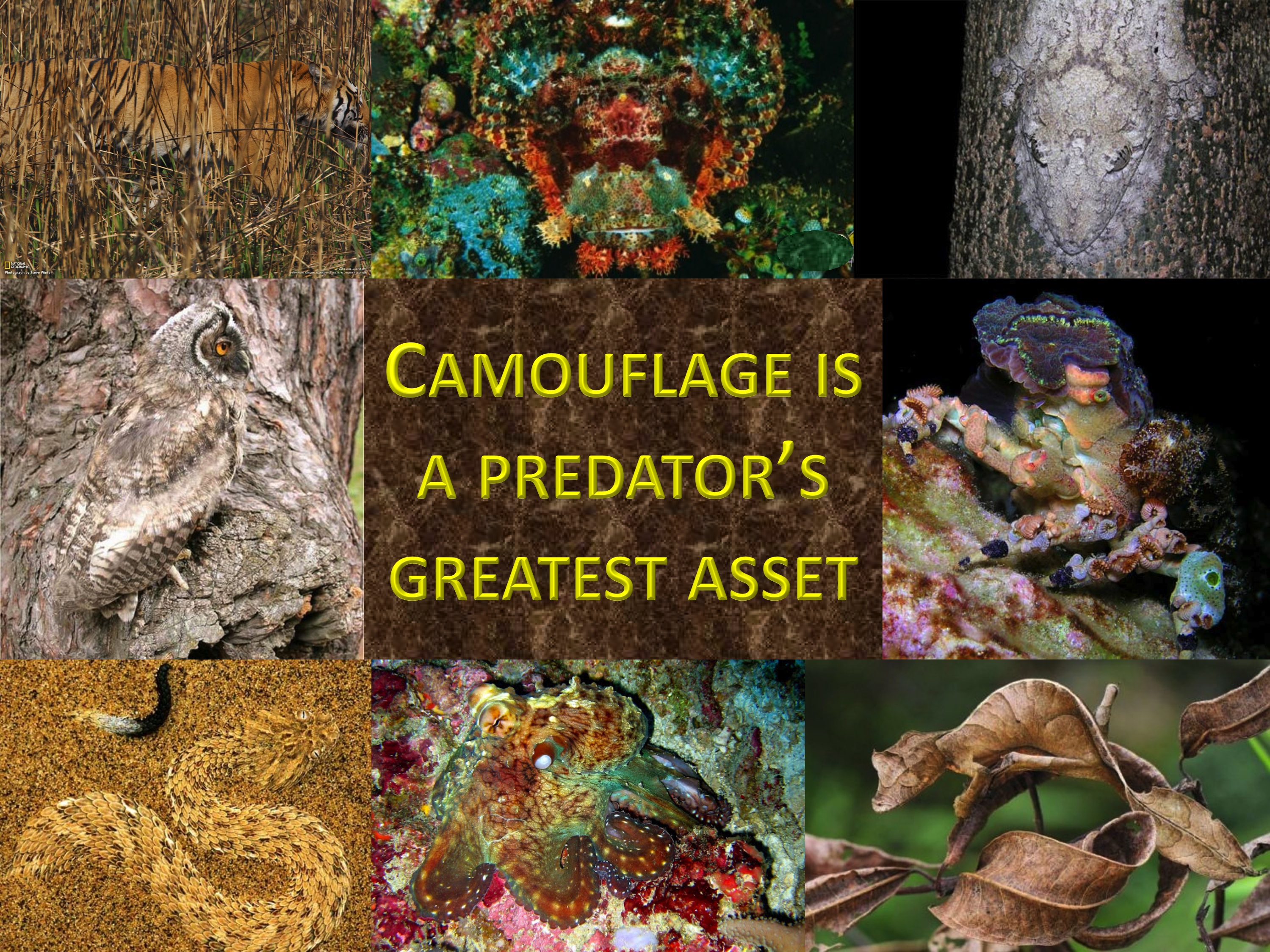 THE MASTER OF CAMOUFLAGE
GOD has ordained for life to survive. Among the many gifts he has provided includes a creature's camouflage to blend with the environment. This gift is not only to hide from a predator, but also to provide a predator with the ability to remain hidden from its prey.

The enemy of the souls of men, Satan, is the master of camouflage; so much so that most do not even believe in his existence. Most have never witnessed witchcraft or anything paranormal. But many have, many times, including myself. And the evidence was tangible, beyond coincidence or any random stroke of luck. The principle is simple: There are controlling forces outside of our ability to control our destiny. In fact: the evil of this world can only be explained by the presence of evil prodding men to do things their good conscience would have never allowed had not the evil been present.

The Bible teaches that the Earth is Satan's stronghold. Jesus Christ called him, "the prince of this world." Jn.12:31. And what is the result of his dominion and control over the natural forces of his realm? He has led men to continuously war with each other, lie to each other, and steal from each other! The Bible teaches that he has the power to create hurricanes, tornados, floods, earthquakes, thorns, poison ivy, mosquitoes, ticks, lice and disease. All of these ravage the earth through his cruel manipulation of life. All of the afflictions and atrocities of this world are the deliberate work of Satan, not The GOD of Heaven! His liberties include the exercise of mind control over his victims, for his presence is hidden from human view; and through his artifice of temptation and impulse, even using his power to create false visions and miracles given to deceive men, women, and children, he leads life to every form of degradation and false belief that we see today—hardening men in their sinful ways. He exercises his rage against life through the creatures of earth to carry out every conceivable atrocity. And the suffering of man is his supreme entertainment! All sadistic glee has its origin in him. No matter what despicable thing you can imagine it is being carried out every moment of every day because of his insatiable lust to maximize the suffering of life. This is the system of government that has held sway since Satan seized the dominion of Earth from Adam and Eve, and then claimed it as his own. And in him lay the supreme camouflage.

There is only one reason why total anarchy does not rule over life, where crime would be continuously flooding the streets of every nation: the restraining hand of GOD! It is through GOD'S protection that any peace endures. It is GOD'S protection that good health is maintained. It is GOD'S great love that has secured our deliverance from sin and death through the sacrifice of Jesus Christ! And our relative peace endures simply because it centers on the authority of the Ten Commandment Law. Within its boundaries lies the safety of all life. Outside its boundaries lies total destruction. This is why it is so important to be Bible literate and to understand the rules of engagement between Christ and Satan. Paul said of Satan, "for we are not ignorant of his devices" (II Cor.2:11). And yet, today, billions of people stand ignorant of the many snares that entrap into sin. And multitudes from all walks of life encourage and take delight in their ignorance. As a result the LORD stated, "My people are destroyed for lack of knowledge." Hos.4:6.

For atheists to not explore the testimonies of people's paranormal experiences with the occult, witchcraft, visions, after death experiences, not to mention the innumerable godly Christian testimonies, and to place all of the tens of thousands of testimonies in the "delusional" category is simply a pride that will not humble itself to the reality that there are controlling forces outside of our ability to control our destiny. That's all we're dealing with here is pride and the extremes people will go who refuse the virtue of humility. It is just as Solomon stated, "He that answereth a matter before he heareth it, it is folly and shame unto him." Prov.18:13.

But there is great honor in humiliation. Behold the humiliation of Christ! Pride did not shut His ears to the cacophony of woe emanating from this world. He saw. He came. He redeemed! If only the artistry of life's beauty created by GOD controlled our every decision! All the wars would have never existed; the greed of the religions of Rome, Islam, and now, Apostate Protestantism would never have occurred; the CEOs of America would never have caused the meltdown! But the greatest Creative Artist of all: Jesus Christ & His government would be allowed to rule in society and undo all the harm that has been done. By us obeying His Ten Laws of Utopia, eternal life can be restored and our childhood dreams be fulfilled.

But this ideal cannot be fulfilled as long as Satan exists to tempt, deceive and destroy. Sad it is for those who don't know what eternal friendship is. But for those of us who have read, tasted, and proven the Word of GOD in our lives, we, the commandment keeping disciples of Jesus Christ know precisely the beautiful destiny that awaits the faithful among men as it is written: "And they shall build houses...and mine elect shall long enjoy the work of their hands." "And none shall make them afraid."