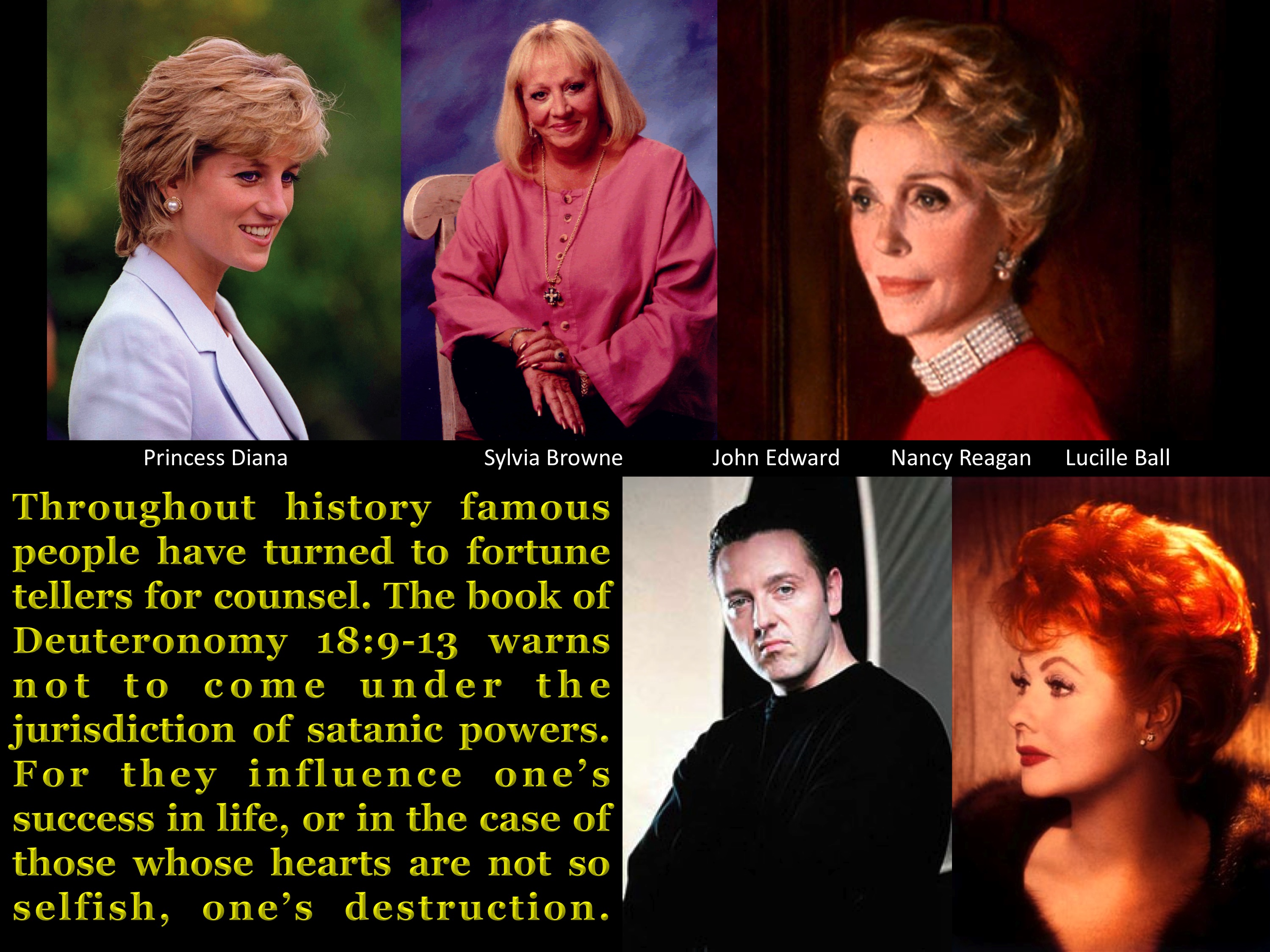 SATAN IS EAGER TO PREY ON THE UNEDUCATED

"My people are destroyed for lack of knowledge." Hos.4:6


There are those who don't believe in Satan's existence. The agnostic generally refuses to believe in anything outside of the limitations of the human senses of sight, sound, smell and touch. While studying at the Juilliard School in New York City, I went to see a fortuneteller at the recommendation of a friend. This woman used Tarot cards to read my fortune. She laid them down on the table in front of me and told me according to the meaning of the cards what was in my past, present, and future. Everything she stated was perfectly precise in what was transpiring in my life at that time: everything from recent events in my life to the decisions I had just made for my future. I was just a dumb pot smoking kid out of high school, but I had enough sense to ask, "Who shuffled the deck?" This clearly was no coincidence—no random stroke of luck. This experience taught me a very important lesson even though I was not a Christian at this time: there are controlling forces outside of our ability to control our own destiny. It proved to me that beyond the three dimensional experience of human beings there is a dimension where powers of supernatural intervention exist. Physicists today have calculated eleven dimensions proving there is much beyond our very limited spectrum of sense and understanding.

All throughout history demons have appeared before men as angels, saints, loved ones, ghosts and goblins, and have been promoted in every culture and religion, literally haunting people by the millions, frightening little children to tears generation after generation. Even the Devil's impersonation of the Virgin Mary has rapped in vision little Catholic girls, showing them the tormented souls of countless men in the flames of hell, speaking the soft-spoken words: "This is where the sinners go." This was the testimony of a Catholic lady named Conchita Gonzalas, in the movie, Armageddon (not the Sci-fi).

A dear Catholic friend of mine, Joanne, was truly assaulted with a satanic encounter when she believed the Bible's teaching on the value of obedience to all ten of the Commandments of Jesus Christ (not just obedience to eight, which the Vatican indoctrinates) as well as the Bible's definition of death. As she rejoiced in the logic and plainness of the Scriptures she was soon lured into a satanic deception aimed at hers and her family's destruction. A supernatural manifestation was shown to her little girl, who came to her and said, "Mommy, my guardian angel is visiting me in my bedroom: come and see." Joanne and her Pentecostal friend went into the bedroom but could not see the angel; only her little girl was allowed this rapturous vision. Being leery, the Pentecostal friend prayed, "I pray this house be covered in the blood of Jesus." Suddenly, blood covered the walls of the little girl's bedroom that only Joanne's little girl was allowed to see. Joanne began to ask questions of the angel. The angel would answer to the little girl and the girl would relay the answer to her mother. After only a few minutes, the "Virgin Mary" appeared; and soon after came the appearance of "Jesus" Himself. Joanne asked a question to the one who appeared as Jesus, "What was the great work you did while you were here on earth?" The response was silence. Joanne asked her little girl, "What did he say?" She said, "He's just sitting there smiling, mommy." Joanne then knew that this was a demonic deception threatening the soul's salvation of her own little girl. She then said, "In the name of the LORD Jesus Christ I command you to leave my daughter." And they all left, including the blood on the walls.

Do you see how intense things are progressing in the last great struggle over the souls of men? I know this woman. This was her testimony to me. And she was not lying. Other well-known testimonies include a woman who claimed Christ showed her the lake of fire; and as they walked along its banks, the poor, tortured souls would cry out, "Help me LORD!" "Have mercy LORD!" And this woman said that Christ just kept walking, facing ahead, showing no emotion, ignoring their pleas for help. Another devout Catholic lady was given visions by Satan's impersonation of the "Virgin Mary," who commanded this lady to write a book, where she took a dictation, word for word from "Mary." And this is promised to every Catholic to be GOD'S leading hand. In the middle of the book, these words of "Mary" are recorded, "I tell you the truth." You can find this book right next to "His Holiness," the pope's book in Walmart. Sadly, in the eyes of heaven, these books are no less ungodly than the books of Harry Potter, Agatha Christie, or Stephen King; for to work against the truth as it is "in Christ" is to work against life, period!

Why does not GOD have the legal right to protect people, including little girls from the deceptive magic of Satan? The rules of engagement between Christ and Satan are little understood in the church; and this ignorance makes them vulnerable. To venture onto Satan's enchanted ground is to come under his jurisdiction; and he will stretch his authority as far as he is allowed. It all lies over the issue of people's free will. Because of their freedom to believe as they themselves choose to believe (or are led to believe through the opinions of others) this makes them subjects of Christ or of the Devil in the principles of life, and there is no neutral ground.

One sad example: Princess Diana went to see a psychic. And this psychic told her that she was to die in a car accident. This "prophecy" came to pass and Diana died a horrible death. Of her own free will Diana surrendered to the jurisdiction of Satan and was overcome, plain and simple. But Diana didn't have to die! Had she come under the banner of Christ, His overruling power would have made that prophecy of none effect! Only in the judgment of heaven will people see how many have followed a similar path as that of Diana, surrendering their wills to fortunetellers, psychics, tarot cards and crystal balls. GOD gave to us a list found in Deuteronomy 18:9-13 that warns of every harmful practice that leads people to come under the legal jurisdiction of Satan. This knowledge is 3,400 years old and people still don't get it: even ministers of the church!

But there are those who the LORD has delivered from the jurisdiction of satanic powers. Study the life of Roger Morneau and also Laura Maxwell. Their stories stand among the most astounding examples of GOD'S deliverance from Satan's jurisdiction.