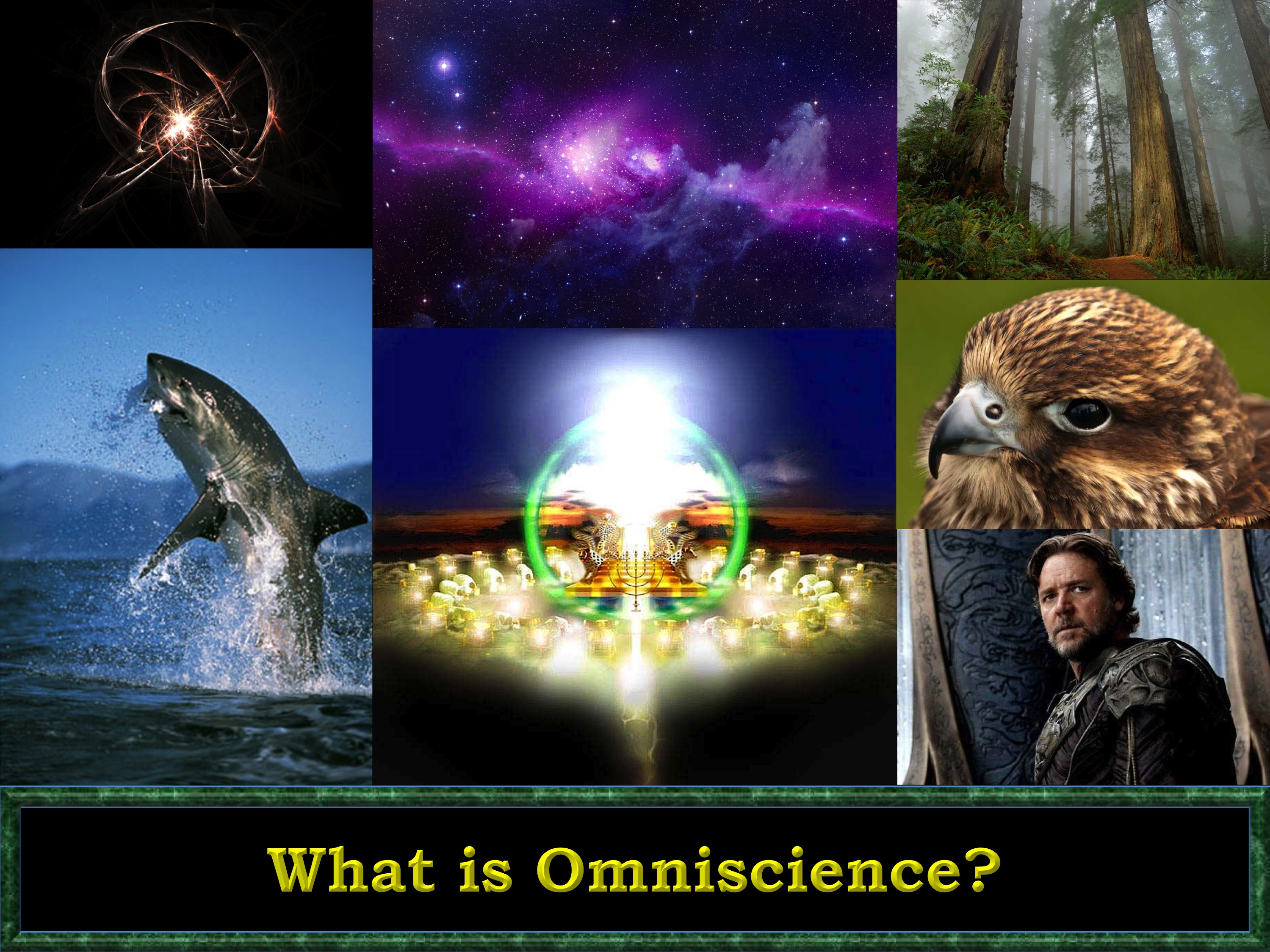 WHAT IS OMNISCIENCE?


"Are not five sparrows sold for two farthings, and not one of them is forgotten before God? But even the very hairs of your head are all numbered. Fear not therefore: ye are of more value than many sparrows." Lu.12:6,7

Webster's Dictionary: "Omniscience: The quality of knowing all things at once; universal knowledge; knowledge unbounded or infinite. Omniscience is an attribute peculiar to God."

What this means is that "Our Father which art in heaven" knows the motion of every atom throughout the universe and in Whose power all that exists is sustained.

The Limitless Magnificence of GOD is beyond man's ability to comprehend: "0 the depth of the riches both of the wisdom and knowledge of God! how unsearchable are His judgments, and His ways past finding out!" Rom.11:33. But what can be understood of GOD'S character, purposes and government is revealed in the Bible. There is no other source from which His Word of truth and salvation may be found. Its very first words describe the leading attribute of GOD: "In the beginning God created the heaven and the earth." Gen.1:1. He is the Author of all that exists. His sovereign authority oversees every aspect of His Creation. And to understand the heart of GOD we study the life of Jesus Christ, whose sole purpose, the Bible says has ever been and will ever be to serve life: its preservation, its tranquility, and its happiness throughout eternity (Matt.20:28).

GOD the Father, Who Reigns Supreme among the GODHEAD, is Alone in Omniscience [having infinite knowledge of time and space]: "Declaring the end from the beginning, and from ancient times the things that are not yet done, saying, My counsel shall stand, and I will do all my pleasure." Isa.46:10.

Jesus directs everyone's prayer and praise to be given to "God and Father of all, who is above all, and through all." And to those who believe, He is "in you all." Eph.4:6. "Whatsoever ye shall ask the Father in my name, he will give it you." Jn.16:23. This is due to the Father's Omniscience that Jesus acknowledged: "But of that day and hour [of My 2nd Coming] knoweth no man, no, not the angels of heaven, but my Father only. Matt.24:36.

Only GOD the Father is Supreme in "Knowledge," "Understanding," & "Wisdom." And in Whose foreknowledge of the time when the life of Earth would be fraudulently usurped by Heaven's arch-deceiver, Satan, GOD set in motion His plan from Eternity Past to rescue the life of His Creation from Satan's dominion: "the Lamb slain from the foundation of the world." Rev.13:8. Before the first step in Creation the Co-Eternal "Son of God" knew He would have to die on the Cross of Calvary. Nothing escapes the Father's anticipation. And He withheld nothing from His Son. As a result, nothing will prevent the Father's victory for His children's salvation.

Freewill is the perfection of liberty GOD has given to all intelligent life. And it has been the abuse of that gift that accounts for the rise of sin with all its bitter consequences. Our Father hears the continual shrill, agonizing cries from trillions of His creatures, "and not one of them is forgotten before God." Lu.12:6. He knows intimately every nuance of the suffering of His children, and of all His creatures. His Omniscience grants Him that infinite knowledge of all of life's joys and sufferings, its blessings and threats. Full well He knows the history of life: its peaceful beginning, the disastrous fall of Lucifer into sin, the fall of man at Lucifer's hands, followed by the Holy Sacrifice of His Son, Jesus Christ; and then the great culmination of salvation: the restoration of man's everlasting life with perpetual tranquility in ever-ascending joy.

As said before, the character of GOD is best revealed in the life of Jesus Christ, whose purpose, the Bible says has ever been and will ever be to serve His children: their life, safety and joy, as Jesus said: "the Son of man came not to be ministered unto, but to minister." And "he that hath seen me hath seen the Father." Matt.20:28; Jn.14:9. Jesus clearly directs us to follow His example in serving our Father: "For I came down from heaven, not to do mine own will, but the will of him that sent me." Jn.6:38. Even the Holy Spirit is likewise subservient to the Father, as Jesus said: "for he shall not speak of himself; but whatsoever he shall hear [from the Father], that shall he speak: and he will show you things to come. John 16:13b.

Our Father knows our thoughts, hurts, hopes and dreams, with every frailty and guilt from sin as it is written: "He knoweth the secrets of the heart." Ps.44:21. And for those who pray for His leading and blessing in their lives He plans around our decisions to bring His blessing into the life, as it is written: "Before they call, I will answer." "Delight thyself also in the LORD; and he shall give thee the desires of thine heart." "For I know the thoughts that I think toward you, saith the LORD, thoughts of peace, and not of evil, to give you an expected end." Isa.65:24; Ps.37:4; Jer.29:11.

This is the providence that comes from Heaven. But this is not to be confused with the destructive, deceiving providence of life's adversary who tirelessly works to divert the mind from the safety of Scripture's guidelines as Paul said, "Lest Satan should get an advantage of us: for we are not ignorant of his devices." II Cor.2:11. In these issues of salvation the Christian should pray the prayer of Solomon and follow the Counsel of "the Good Shepherd." Said Solomon, "Give therefore thy servant an understanding heart to judge thy people, that I may discern between good and bad: for who is able to judge this thy so great a people?" "And God gave Solomon wisdom and understanding exceeding much, and largeness of heart, even as the sand that is on the sea shore." I Ki.3:9; 4:29. Said Jesus, "Therefore whosoever heareth these sayings of mine, and doeth them, I will liken him unto a wise man, which built his house upon a rock. And the rain descended, and the floods came, and the winds blew, and beat upon that house; and it fell not: for it was founded upon a rock." Matt.7:24,25.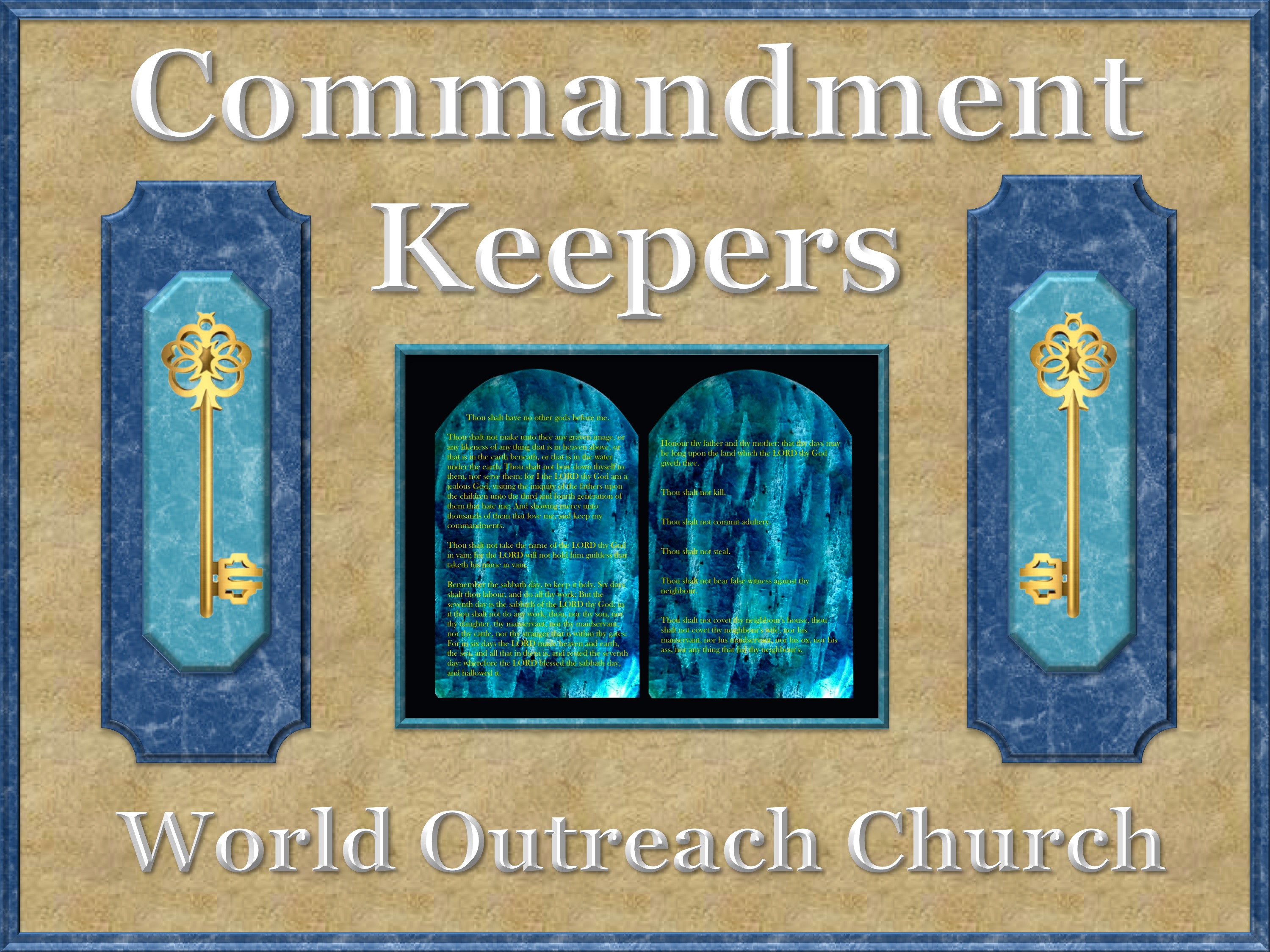 Commandment Keepers invites every Christian to join the closing work of the Gospel of Jesus Christ and establish twelve member groups within your respective country, heralding the titles: Commandment Keepers Kenyan Assembly, British Assemby, Brazilian Assembly, etc. As the Bible teaches, the redeemed of earth will come from "every nation, and kindred, and tongue, and people." Rev.14:6. And all will have stood faithful to Christ's Words, "But if thou wilt enter into life, keep the commandments." Matt.19:17.
To meet the specific cultural needs of the different peoples of the world, a custom tailored witness is vital for successful evangelism. While the message of Salvation through the Creator/Christ is universal in its scope, people's cultural affections vary greatly from land to land. What can bring tears of joy to one group can actually harden the hearts of another.
To receive this ministry outline click "The Evangelists" below. It contains all the materials needed to succeed in this invaluable type of ministry.
Two reasons for the need of small church companies at this time in history:
1. There are six branch ministries, which cover all areas of the closing gospel work, providing each member with an invaluable task. Teamed up in pairs for each of the branch ministries, none will sit on the sidelines, feeling useless, and where each have equal value to the success of the ministry's work.
2. Economic streamlining has become an essential factor in the closing work. As America and other countries proceed in their place in Bible prophecy a structure of ministry must be in place to carry out the Savior's closing work on the minds and hearts of the people just at the time it is needed the most.
This efficient, low cost approach to the closing work will be lavished with GOD'S blessing. Each of these small church companies will be given an eloquent, persuasive testimony by GOD: to share in the most privileged work on Earth: enlightening the world with His Glory: His redeeming love found in the truth, as the truth is in Jesus:" as Creator of heaven and earth; what He has done: as bearing the punishment for the sins of men; and what He is doing: interceding on behalf of His faithful children who are continuously accused of the devil; and what He will do: deliver His faithful children when He comes again.
Through His Presence, Guidance and Intervention, the faith of Bible literate and obedient Christians will swell to a lofty summit, preparing them for the coming of the LORD.
Lastly, no tithe is required except to budget your ministry's needs.
Liberty Seminars: Bible Prophecy: Your Key To The Future
Commandment Keepers
2116 Linden Highway
Hohenwald, TN 38462