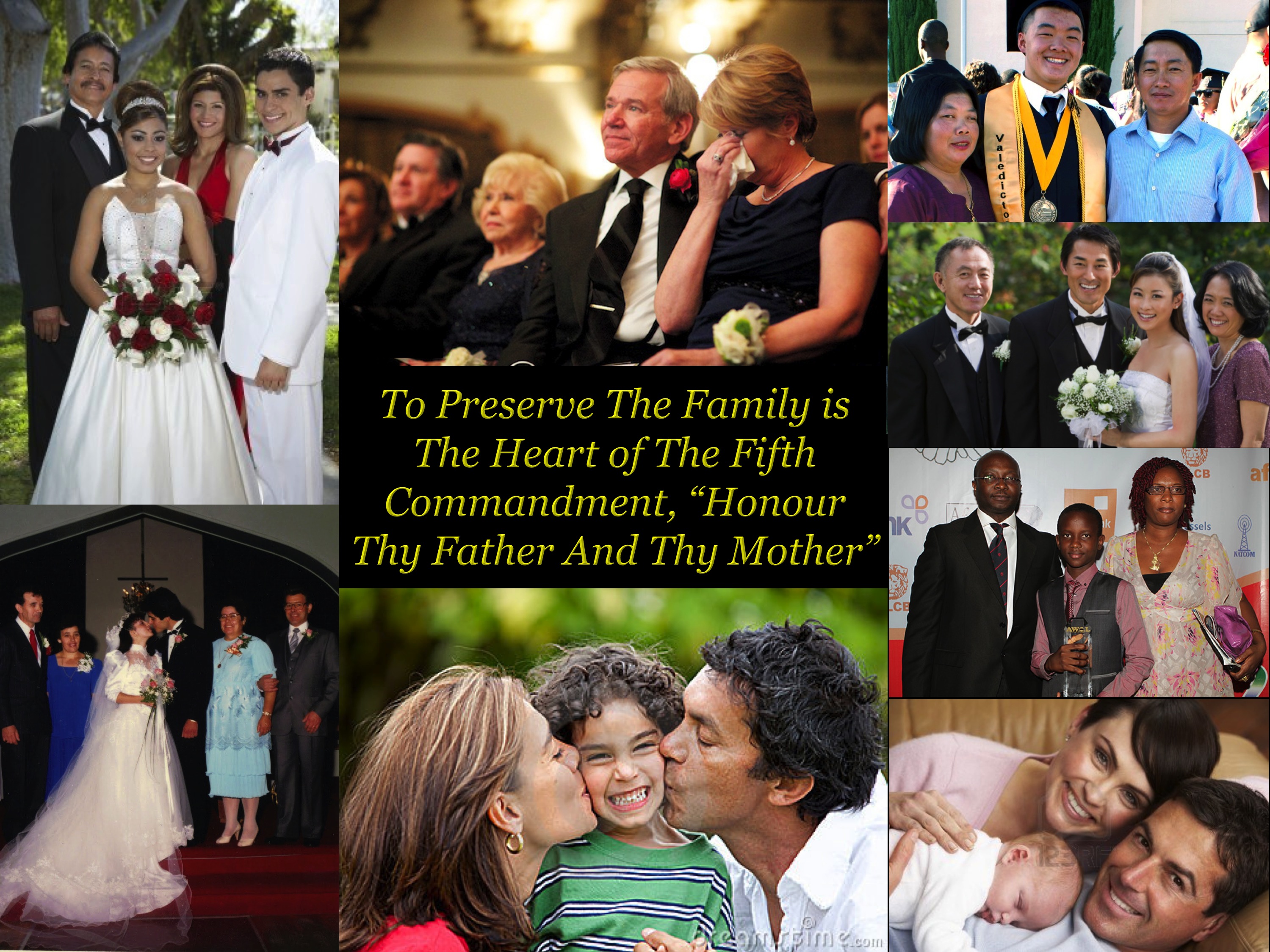 "Children, obey your parents in the Lord: for this is right. Honour thy father and mother; (which is the first commandment with promise;) That it may be well with thee, and thou mayest live long on the earth." Eph.6:1-3

Among the supreme aspirations given to humanity is the desire to have children to care for and love, and to carry forward to future generations the life of their parents at their passing. This stands among the most profound needs in our emotional constitution: to have the comfort in the knowledge that our name and our posterity continue, to live, to serve, and to love. Many a life has turned from one of a reckless course to one of integrity to see to the blessing, protection and happiness of their child. There is no greater wave in love's display than when a mother holds and nurses her baby. The depths of her love for her baby goes far beyond human language. And there is no greater drive for a father than to guard his vulnerable child from the many threats in this world.

GOD affirms this heaven-born desire in a variety of ways. He took special precautions to preserve the lineage of every family. From the beginning the gift of life's perpetuation has been provided by GOD: "And God blessed them, and God said unto them, Be fruitful, and multiply, and replenish the earth, and subdue it: and have dominion over the fish of the sea, and over the fowl of the air, and over every living thing that moveth upon the earth." "For thus saith the LORD that created the heavens; God himself that formed the earth and made it; he hath established it, he created it not in vain, he formed it to be inhabited: I am the LORD; and there is none else." Gen.1:28; Isa.45:18.

But with the entrance of sin, the increasing weakness of man's character to live up to his heaven-born aspirations has been a constant threat to life's security and happiness. So GOD gave to man the tangible reminder of the virtue that our conscience has always acknowledged as righteous, but had become so depraved over succeeding generations that a new heavenly influence needed to be introduced: "And he gave unto Moses, when he had made an end of communing with him upon mount Sinai, two tables of testimony, tables of stone, written with the finger of God." Ex.31:18. It is this Law that GOD promises to write in every willing mind and heart through the power of the Holy Spirit.

Within the boundaries of the Ten Precepts of Jehovah is found every blessing, including the sacrifice of Jesus Christ: "the Lamb of God, which taketh away the sin of the world." Jn.1:29. The Ten Commandments commanded GOD Himself to save His children from sin. This is why they stand harmonious with His character, whose perfect display is found in the life and love seen in Jesus Christ.

The Bible declares that anything that threatens the security and perpetuation of life, be it lies, theft, war, pollution, abortion, homosexuality, drug addiction, etc. GOD calls it sin. And men need to take GOD'S wisdom to heart in these issues of life's security. Every safe boundary given to preserve life is revealed in His Word.

While the Apostle Paul focused on identifying the Ten Commandments as the means of Judgment against sin, the Apostle James referred to them as the "law of liberty" (Ja.2:8-12) on whose foundation rests eternal life. And so, to step outside of the boundaries of the Law's jurisdiction to bless life is to abandon the security of life that is received through their jurisdiction.

In the long history of men circumventing GOD'S Holy Law is seen every corruption that has ever existed in government, business and religion. The rise and fall of every nation can trace its steps to ruin with its increasing allowance of sin to rule within its borders.

Every man who denounces their authority and leads others to stand with him in his rebellion, the Spirit of GOD can have no place in that soul. This is because sin is seated on the throne of their heart; and GOD and sin cannot share the same throne. And yet, if all people from every nation upheld the virtue that GOD calls for from every man, woman and child, prisons would be turned into gardens and every weapon of war dismantled. Bible prophecy assures that one day this everlasting liberty will come to rule the Earth.

But today, most everyone pursues a belligerent posture against GOD'S Law. As children will test the boundaries of disobedience until the hand of restraint comes on them, so men in leadership roles stretch their rebellion against GOD'S Laws preserving life. It is this increasing display of sinful authority that accounts for every social injustice and affliction, and will one day reach its summit in the battle of Armageddon.

But after this conclusion of sin's authority on the Earth a promise will be fulfilled: "For as the new heavens and the new earth, which I will make, shall remain before me, saith the LORD, so shall your seed and your name remain. And it shall come to pass, that from one new moon to another, and from one sabbath to another, shall all flesh come to worship before me, saith the LORD." Isa.66:22,23.