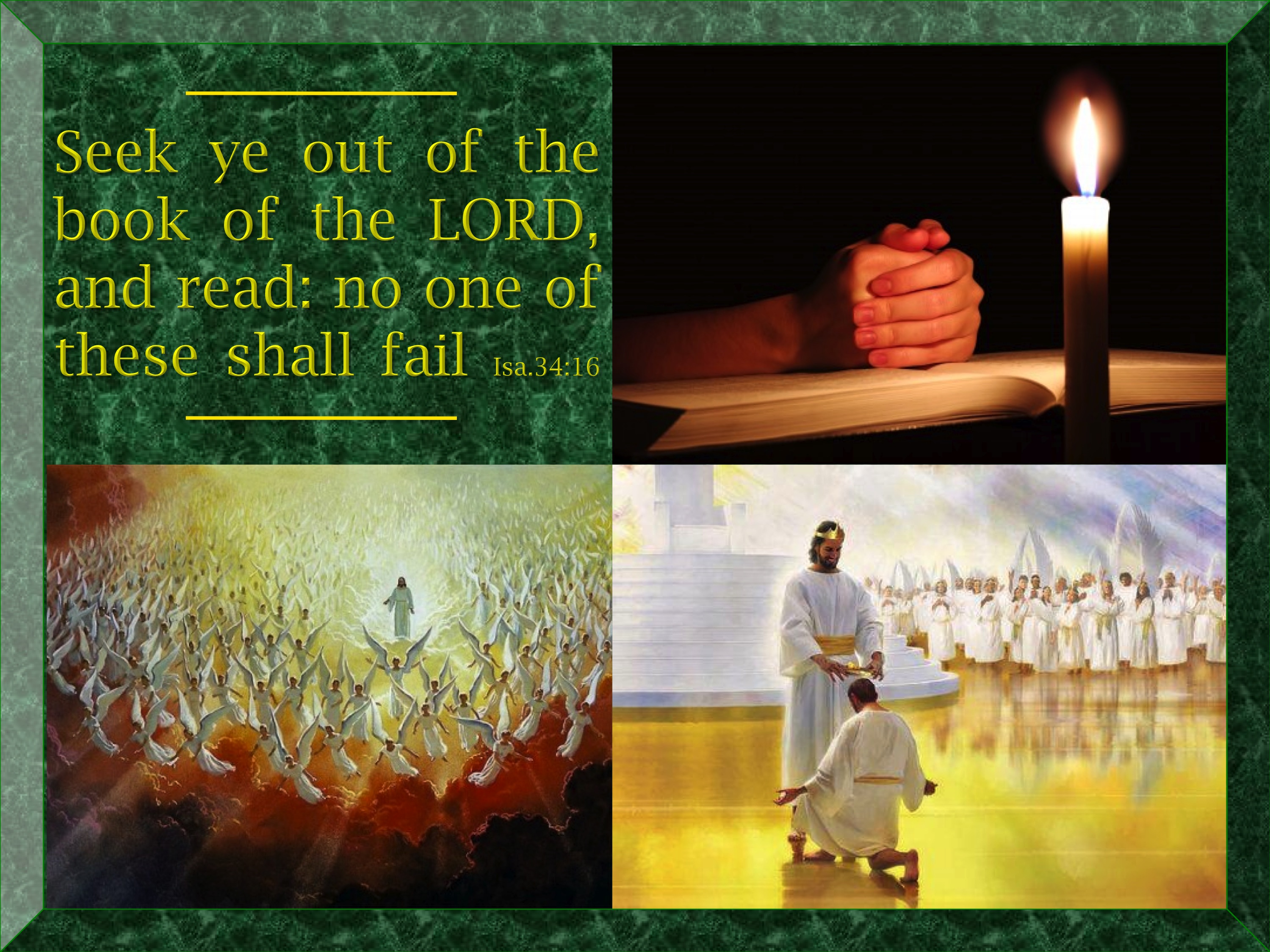 Testimony of The Great Danger I Brought On Myself


In the summer of 1990 I gave my heart to Jesus Christ, and for two years was avidly adoring Him, reading and following the Bible's counsel, and praying to GOD. But then it happened! What I thought I would never do again I did: I indulged in sin against GOD'S Ten Commandment Law and was habitually carrying it out in my life. I continued my attendance at church, my fellowship with friends, my Bible studies, even my prayers. The Spirit of GOD brought the appropriate verses to my mind to get me to turn from the course of life that I had welded to my soul. I ignored them and continued on. But the Creator we serve wasn't going to sit idly by and watch me die the eternal death! He personally came to me to warn me of my sinful course that was threatening our companionship together.

Going to my computer one day, as I did every day, I brought up a document I was working on, and at the top of the page was typed a word: a large, all capital letter word: "ACEPHALOUS." I didn't type this word. No one else was there to type it. I had never seen this word in any book or vocabulary before and didn't even know what it meant. So I looked it up in the dictionary. It's definition is, "headless;" "having no head;" "lacking a governing head." I knew that the Bible teaches that Christ is "head of the church," and "head of the body, the church" (Eph.5:23; Col.1:18). So ACEPHALOUS declared that I was Christless! I was lost! The Holy Spirit had no part in my soul during this time! No power dwelled within to raise my mortal soul to everlasting life! In my indulgence in sin I stood as Samson when his continued ignoring of his own sin brought him to a place of great danger: "And she said, The Philistines be upon thee, Samson. And he awoke out of his sleep, and said, I will go out as at other times before, and shake myself. And he wist not that the LORD was departed from him." Jud.16:20.

But the GOD of Heaven, His Holy Spirit, and my Guardian Angel did not abandon me. Oh no! I was led to the words of Jesus "As many as I love, I rebuke and chasten." Rev.3:19. So I knew I was still loved and not forsaken. GOD'S personal warning to me was a demonstration to show the true character of GOD in the midst of my sin. The quality of the voice leading in my heart was compassionate, solemn and plaintive: not harsh and condemning. It was the same love that when Peter denied Jesus the third time with cussing, the Bible says, "And the Lord turned, and looked upon Peter." Lu.22:61. Peter looked into the eyes of his Master. The look in His eyes, the expression of His face, the posture of His stance, was only of pure love, compassion and hope, without a hint of anger, disgust, or abandonment. "And Peter went out, and wept bitterly." (v.62). And so did I.

The LORD then led me to the passage of His promise of deliverance whose words were carried by His Holy Spirit into the marrow of my bones: "For a small moment have I forsaken thee; but with great mercies will I gather thee. In a little wrath I hid my face from thee for a moment; but with everlasting kindness will I have mercy on thee, saith the LORD thy Redeemer. For this is as the waters of Noah unto me: for as I have sworn that the waters of Noah should no more go over the earth; so have I sworn that I would not be wroth with thee, nor rebuke thee. For the mountains shall depart, and the hills be removed; but my kindness shall not depart from thee, neither shall the covenant of my peace be removed, saith the LORD that hath mercy on thee." Isa.54:7-10.

From that moment forward I knew I was forgiven; and I repented a deep repentance; and thus, fulfilled the words: "the goodness of God leadeth thee to repentance." Rom.2:4. The Word of GOD set me free. Every corner I've ever been backed into; every situation I've ever faced, the Word of GOD has always set me free. "If the Son therefore shall make you free, ye shall be free indeed." Jn.8:36.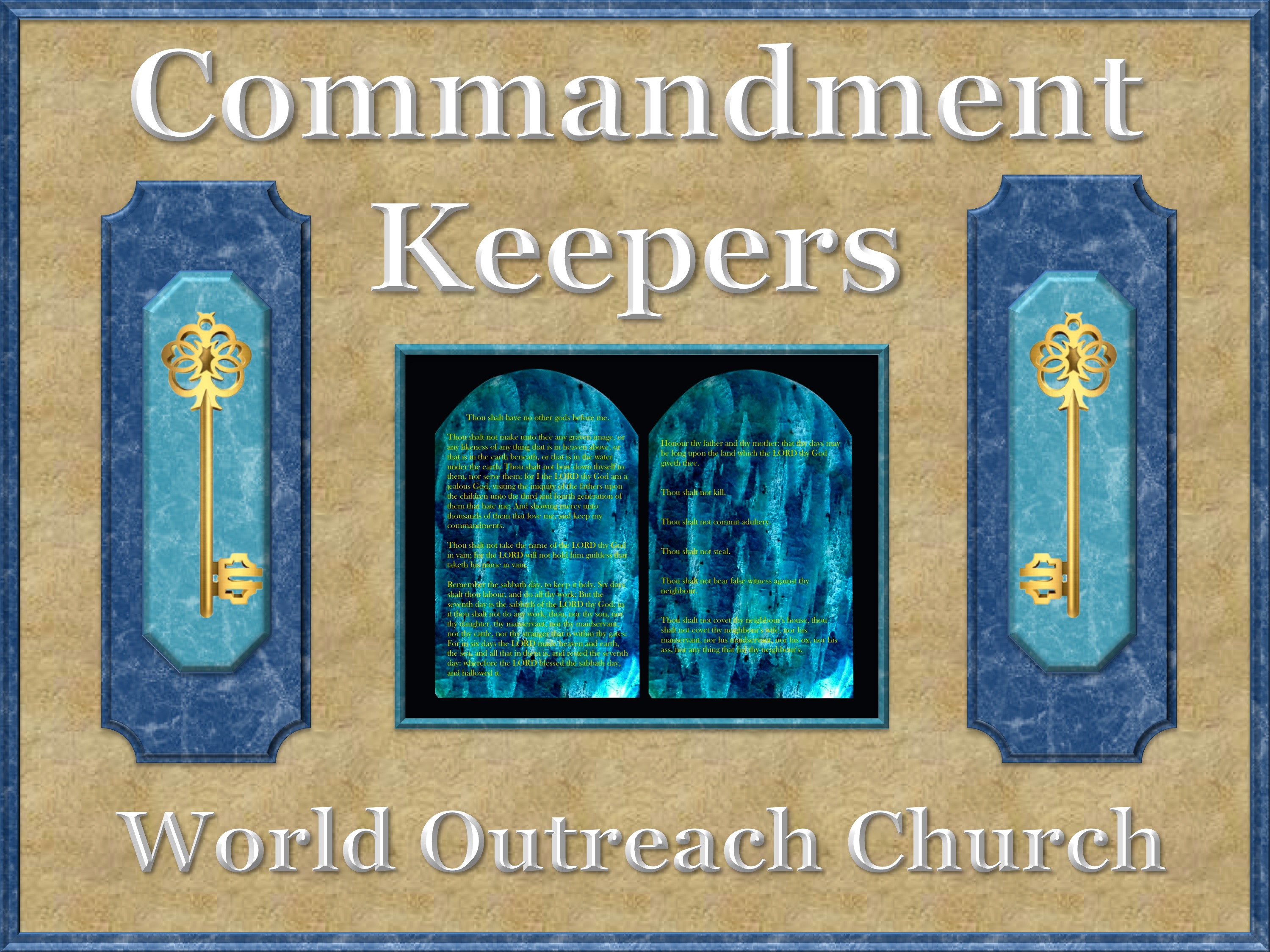 Commandment Keepers invites every Christian to join the closing work of the Gospel of Jesus Christ and establish twelve member groups within your respective country, heralding the titles: Commandment Keepers Kenyan Assembly, British Assemby, Brazilian Assembly, etc. As the Bible teaches, the redeemed of earth will come from "every nation, and kindred, and tongue, and people." Rev.14:6. And all will have stood faithful to Christ's Words, "But if thou wilt enter into life, keep the commandments." Matt.19:17.
To meet the specific cultural needs of the different peoples of the world, a custom tailored witness is vital for successful evangelism. While the message of Salvation through the Creator/Christ is universal in its scope, people's cultural affections vary greatly from land to land. What can bring tears of joy to one group can actually harden the hearts of another.
To receive this ministry outline click "The Evangelists" below. It contains all the materials needed to succeed in this invaluable type of ministry.
Two reasons for the need of small church companies at this time in history:
1. There are six branch ministries, which cover all areas of the closing gospel work, providing each member with an invaluable task. Teamed up in pairs for each of the branch ministries, none will sit on the sidelines, feeling useless, and where each have equal value to the success of the ministry's work.
2. Economic streamlining has become an essential factor in the closing work. As America and other countries proceed in their place in Bible prophecy a structure of ministry must be in place to carry out the Savior's closing work on the minds and hearts of the people just at the time it is needed the most.
This efficient, low cost approach to the closing work will be lavished with GOD'S blessing. Each of these small church companies will be given an eloquent, persuasive testimony by GOD: to share in the most privileged work on Earth: enlightening the world with His Glory: His redeeming love found in the truth, as the truth is in Jesus:" as Creator of heaven and earth; what He has done: as bearing the punishment for the sins of men; and what He is doing: interceding on behalf of His faithful children who are continuously accused of the devil; and what He will do: deliver His faithful children when He comes again.
Through His Presence, Guidance and Intervention, the faith of Bible literate and obedient Christians will swell to a lofty summit, preparing them for the coming of the LORD.
Lastly, no tithe is required except to budget your ministry's needs.
Liberty Seminars: Bible Prophecy: Your Key To The Future
Commandment Keepers
2116 Linden Highway
Hohenwald, TN 38462