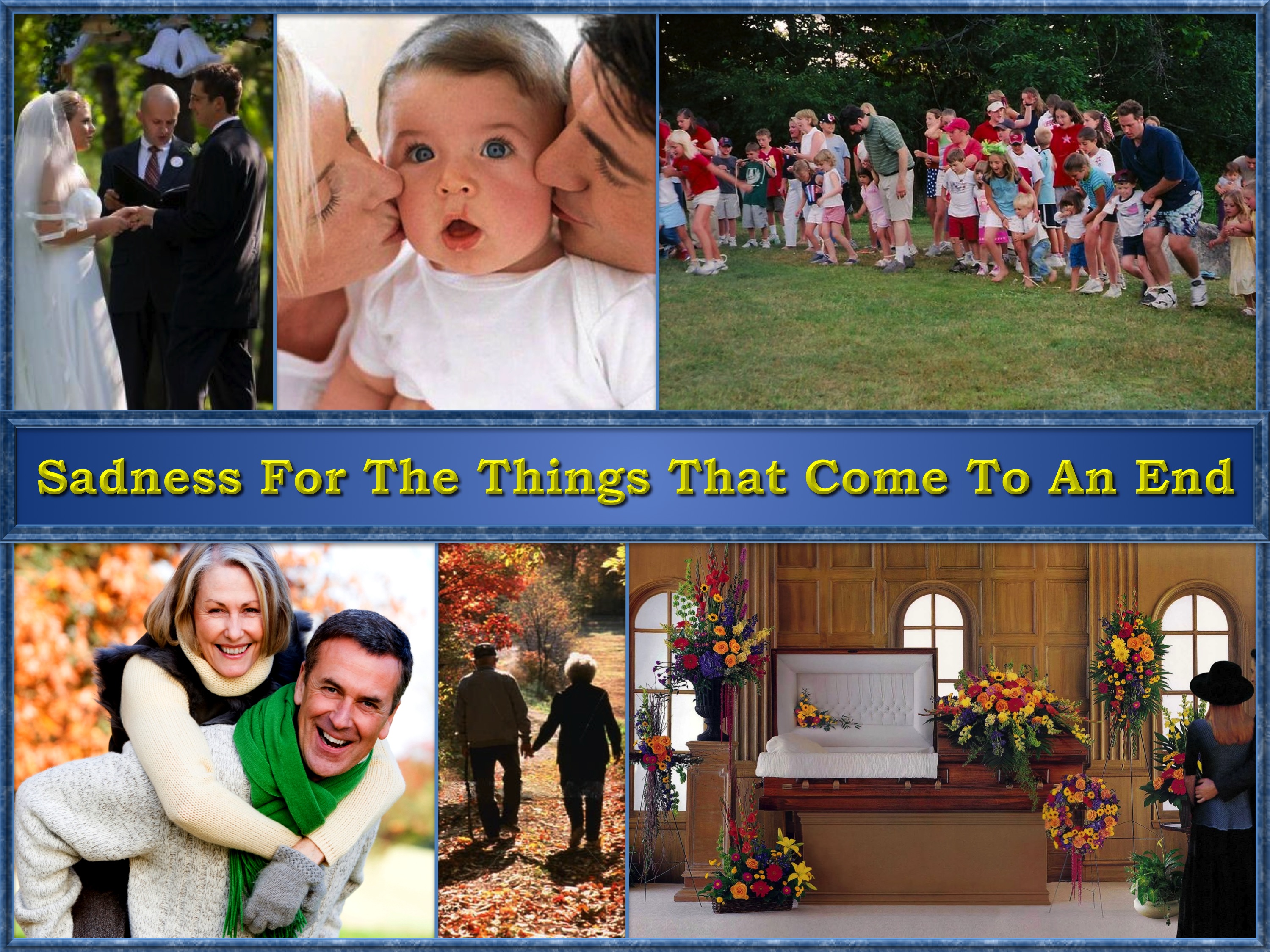 THINGS IN LIFE GOD NEVER INTENDED
FOR US TO EXPERIENCE
WHEN HE FORMED US FROM "THE DUST OF THE GROUND"
AND BREATHED INTO US "THE BREATH OF LIFE"


"And the LORD God said, Behold, the man is become as one of us, to know good and evil. Gen.3:22

When one reads the history of man certain principles stand out. But the primary lesson for us to understand is the origin of sin's dominion on the Earth, and the aftermath that has led us to where we are today with its dichotomy of blessings and cursings.

To paraphrase GOD'S command to Adam in the beginning: "You may eat of all the fruit of the garden that I have provided for you, but of this one tree ye shall not eat of its fruit; for it is poisonous to you, Adam, and it will kill you My beloved son: I have commanded you to live, I did not create you to die." Adam understood this.

The purpose of the forbidden fruit was not to tempt Adam but to illustrate GOD'S everlasting gift of freewill and the power of choice. It was to fortify his wisdom to understand the boundaries where harm may come to life including his own. GOD gave us practical wisdom in relating to His creation. And GOD gave us our great sensitivities both physically and emotionally: how a tender touch is needed for the many fragile plants and creatures. In teaching our children, a tender watchcare is best for their upbringing. We know that in order to swim under water we have to hold our breath. And we know that to leap off a cliff will cause broken bones and even death.

Our Premier Mother, Eve, was first to be deceived into eating the 'poisonous' fruit. When Adam learned of Eve's choice to not believe GOD'S warning words, and the resulting death she must now face, Adam faced the hardest choice of his young life. He loved Eve far beyond man's ability to love today. We are callous compared to our Premier Father. He had to choose to live without her or to die with her. Unable to bear the loss of her life he chose to eat the poisonous fruit and die with her. This was the dawn of the great tragedy for the human race.

While Adam's love for Eve may seem touching (in his choosing to die with her) his method of expression was destructive; for all that has transpired in the history of this present world: the suffering, the carnage, even the global devastation that is impending for us in our generation, all is the result of Adam's sin. Adam and Eve disobeyed GOD'S Word, the Holy Word spoken for their guidance and protection. It has always been man's defiance of GOD'S Word that lies at the foundation of sin and is responsible for every tragedy befalling the human race.

All this happened simply because of Heaven's arch rebel, Satan, who led the human race to join him in his revolt against the Creator whose immeasurable love is proven in the life of Jesus Christ. Our Creator laid down His life on the Cross of Calvary to bear our punishment caused by sin. Behold your Creator, who joined the human family, hanging on a tree: nailed there by you and me—corporately!

It is our inherited selfish nature that leads us away from GOD'S Word. This is because the Gospel calls for unselfish behavior. In this, most men and women refuse: partly because "all that is in the world, the lust of the flesh, and the lust of the eyes, and the pride of life" rules our society. And partly "because iniquity shall abound, the love of many shall wax cold." And because of this, many "shall betray one another, and shall hate one another." I Jn.2:16; Matt.24:10. Many live bitter lives because of these things that continuously abuse of dignity of life. Injustice has become so commonplace that man's indifference to it all shows the sheer insanity that sin has wrought in the human heart.

And this "unbelief" in GOD'S promise to restore all that has been lost through sin is what lies at the heart of the legacy Adam passed on to all succeeding generations of mankind. It became a part of the genetic code of the sinful nature that the Creator works to heal in the lives of His children, restoring through His Spirit, encouraging the sensibilities and sensitivities of true Christian living.

To save the human race our Creator emptied Himself of everything He was: a GOD of infinite power and command, and became the meek and lowly Jesus Christ to rescue the family of Adam and Eve. Take a moment to think of the humiliation of GOD: He transformed Himself from a Being of infinite power and knowledge to a powerless and oblivious embryo in the womb of a sinful woman named Mary. This condescension of GOD is inconceivable in its scope: infinite in its spectrum. Our Creator married to His divine nature our common sinful nature: a nature with the accumulation and degradation of four thousand years of sin: all built into the life of His adopted humanity. Every trait of his mother's lineage, every weakness, lust, appetite, and propensity to sin, all this became a part of the great union of fallen humanity with the Divine. Divinity and humanity kissed; and the two became one! Fully GOD and fully man, Christ alone is the bridge whereby all may cross to heaven to partake once more of GOD'S intended purpose for the destiny of the human race.

From a heart of love, GOD acknowledges every desire of the human heart. He placed them there! All that is good and noble has its origin in the grand design of the Creator according to the Apostle James (Ja.1:17). And GOD has answered each of these aspirations of man with the drawing power of His Spirit reaching into the very fountain of our thoughts, speaking those precious words of Jesus Christ, "Follow Me."

Every cry of the human heart is addressed and is assured of its perfect fulfillment in the Gospel of Jesus Christ. His character and His deeds, which are founded on obedience to the government of subservient love confirm GOD'S determination to rescue a lost world. This makes Jesus Christ the only King who is fit for men to follow. He is the only One in which we are safe to follow: the only One in which betrayal has no part in Him as He Himself confirms: "this is the will of him that sent me, that every one which seeth the Son, and believeth on him, may have everlasting life: and I will raise him up at the last day." "Him that cometh to Me I will in no wise cast out." Jn.6:40,36.

Making ourselves vulnerable to the GOD Who lives to serve guaranties His approval; and the example He set for us is a simple one: it was the means by which He knew who He was, and met every situation that He ever faced in life as a man: "It is written." Men are called to believe GOD'S Word, and through faith follow the safety net of its guidelines with the trust that this path is the only true and safe path in which we as human beings are safe in our relationship with GOD and with one another. "And hope maketh not ashamed; because the love of God is shed abroad in our hearts by the Holy Ghost which is given unto us." Rom.5:5.

GOD did not leave His children without knowledge of His existence, nor did He make obscure any of His principles. He provided a diversity of means to draw men to learn and to hunger for His deliverance: through the majesty of the heavens and the Earth, the diversity of nature, our psychological profile (with its essential needs and expectations); and even GOD'S allowance of Satan's many detestable afflictions on life, limiting his jurisdiction to a controlled dosage that our sense of justice may cry for GOD'S deliverance from all that brings harm to life. This is coupled with a written testimony that will secure, build, and maintain faith in GOD'S charted course for our individual lives. Said Christ, "Behold, I have foretold you all things." Mk.13:23. GOD left nothing out of Scripture that secures our faithfulness to the guidelines of godliness.

It should always be remembered, that GOD never circumvented His established laws to save the human race; for the universe is watching; and the decisions GOD makes in His dealing with the sin problem affects the relationship of every creature to Himself. The present government of selfishness which rules the earth must be allowed to play itself out that all may see its destination if sin were allowed to go unchecked. The goal of sin is simple: the death of GOD and all creation. Jesus had to die to show the goal of the Creator's death; and now the earth itself must perish to show all intelligent life that Satan's argument against GOD'S Laws both moral and physical is the antithesis of the "everlasting life" GOD established "In the beginning." Satan's ways are just like cancer. As cancer lives until it destroys the body, the sins of men are destroying this world. As the cancer perishes with the body, so man will perish with this world (Rev.11:18). Therefore, man has chosen the path of suicide from the very moment man chose not to believe GOD'S Word.

But there are those who want to live, to love, and to be loved. These are the ones GOD calls to "the kingdom of heaven." Our sense of community, of family life, the many social activities that bring our mutual happiness and joy: all these things GOD promises to fulfill beyond all expectation (I Cor.2:9). So, everything that comes to an end in this world and that causes sorrow in our hearts GOD promises to take it all away. The Gospel of Jesus Christ will one day remove everything that threatens the eternal rest and joy of His children.

In these things, GOD'S promises are as sure as the light of our sun. "For thus saith the Lord GOD; Behold, I, even I, will both search my sheep, and seek them out. As a shepherd seeketh out his flock in the day that he is among his sheep that are scattered; so will I seek out my sheep, and will deliver them out of all places where they have been scattered in the cloudy and dark day. And I will bring them out from the people, and gather them from the countries, and will bring them to their own land, and feed them upon the mountains of Israel by the rivers, and in all the inhabited places of the country. I will feed them in a good pasture, and upon the high mountains of Israel shall their fold be: there shall they lie in a good fold, and in a fat pasture shall they feed upon the mountains of Israel. I will feed my flock, and I will cause them to lie down, saith the Lord GOD. I will seek that which was lost, and bring again that which was driven away, and will bind up that which was broken, and will strengthen that which was sick." "I will lead him also, and restore comforts unto him and to his mourners." "And thine ears shall hear a word behind thee, saying, This is the way, walk ye in it, when ye turn to the right hand, and when ye turn to the left," "and ye shall find rest unto your souls." Eze.34:11-16; Isa.57:18; 30:21; Matt.11:29.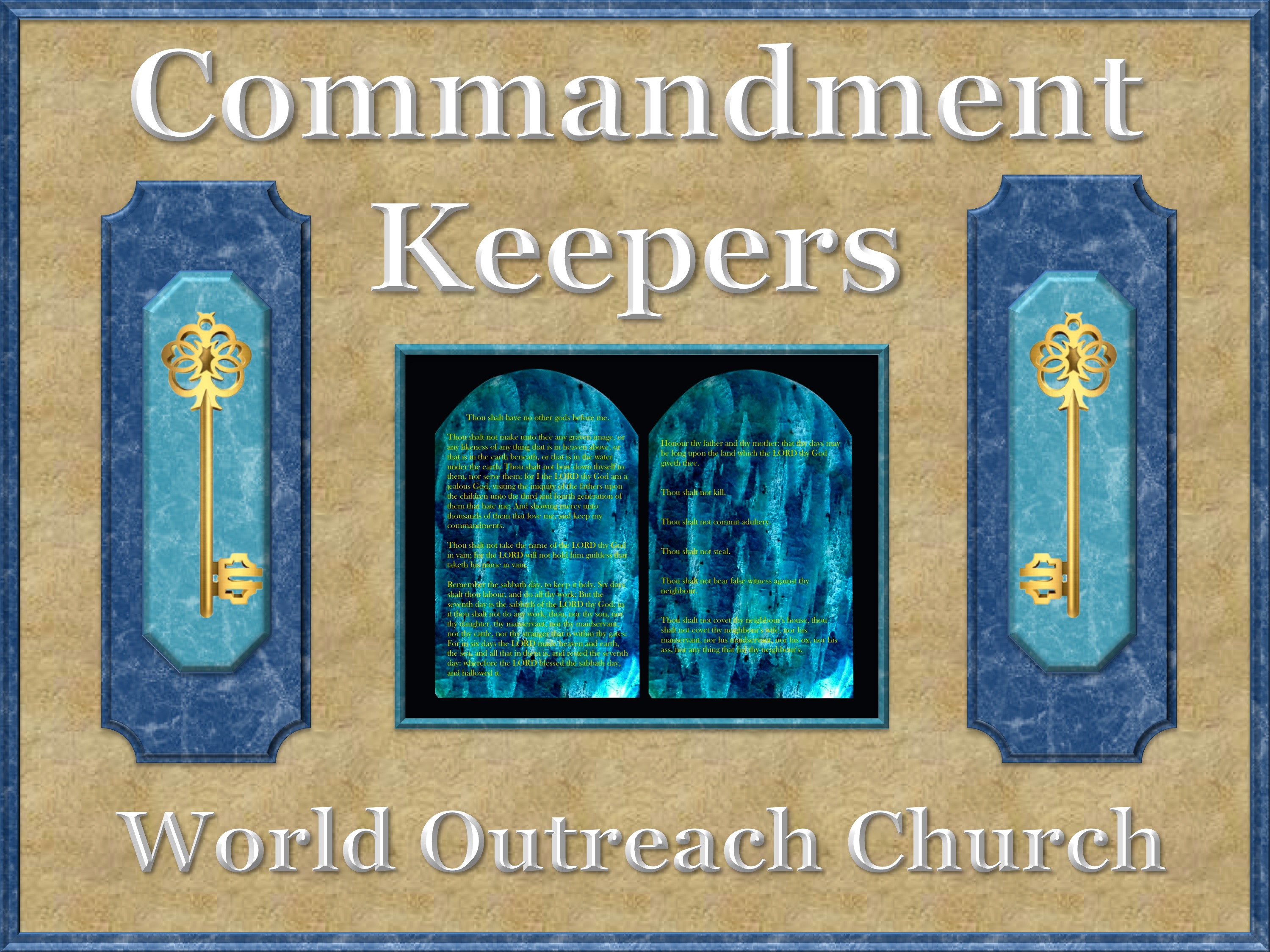 Commandment Keepers invites every Christian to join the closing work of the Gospel of Jesus Christ and establish twelve member groups within your respective country, heralding the titles: Commandment Keepers Kenyan Assembly, British Assemby, Brazilian Assembly, etc. As the Bible teaches, the redeemed of earth will come from "every nation, and kindred, and tongue, and people." Rev.14:6. And all will have stood faithful to Christ's Words, "But if thou wilt enter into life, keep the commandments." Matt.19:17.
To meet the specific cultural needs of the different peoples of the world, a custom tailored witness is vital for successful evangelism. While the message of Salvation through the Creator/Christ is universal in its scope, people's cultural affections vary greatly from land to land. What can bring tears of joy to one group can actually harden the hearts of another.
To receive this ministry outline click "The Evangelists" below. It contains all the materials needed to succeed in this invaluable type of ministry.
Two reasons for the need of small church companies at this time in history:
1. There are six branch ministries, which cover all areas of the closing gospel work, providing each member with an invaluable task. Teamed up in pairs for each of the branch ministries, none will sit on the sidelines, feeling useless, and where each have equal value to the success of the ministry's work.
2. Economic streamlining has become an essential factor in the closing work. As America and other countries proceed in their place in Bible prophecy a structure of ministry must be in place to carry out the Savior's closing work on the minds and hearts of the people just at the time it is needed the most.
This efficient, low cost approach to the closing work will be lavished with GOD'S blessing. Each of these small church companies will be given an eloquent, persuasive testimony by GOD: to share in the most privileged work on Earth: enlightening the world with His Glory: His redeeming love found in the truth, as the truth is in Jesus:" as Creator of heaven and earth; what He has done: as bearing the punishment for the sins of men; and what He is doing: interceding on behalf of His faithful children who are continuously accused of the devil; and what He will do: deliver His faithful children when He comes again.
Through His Presence, Guidance and Intervention, the faith of Bible literate and obedient Christians will swell to a lofty summit, preparing them for the coming of the LORD.
Lastly, no tithe is required except to budget your ministry's needs.
Liberty Seminars: Bible Prophecy: Your Key To The Future
Commandment Keepers
2116 Linden Highway
Hohenwald, TN 38462