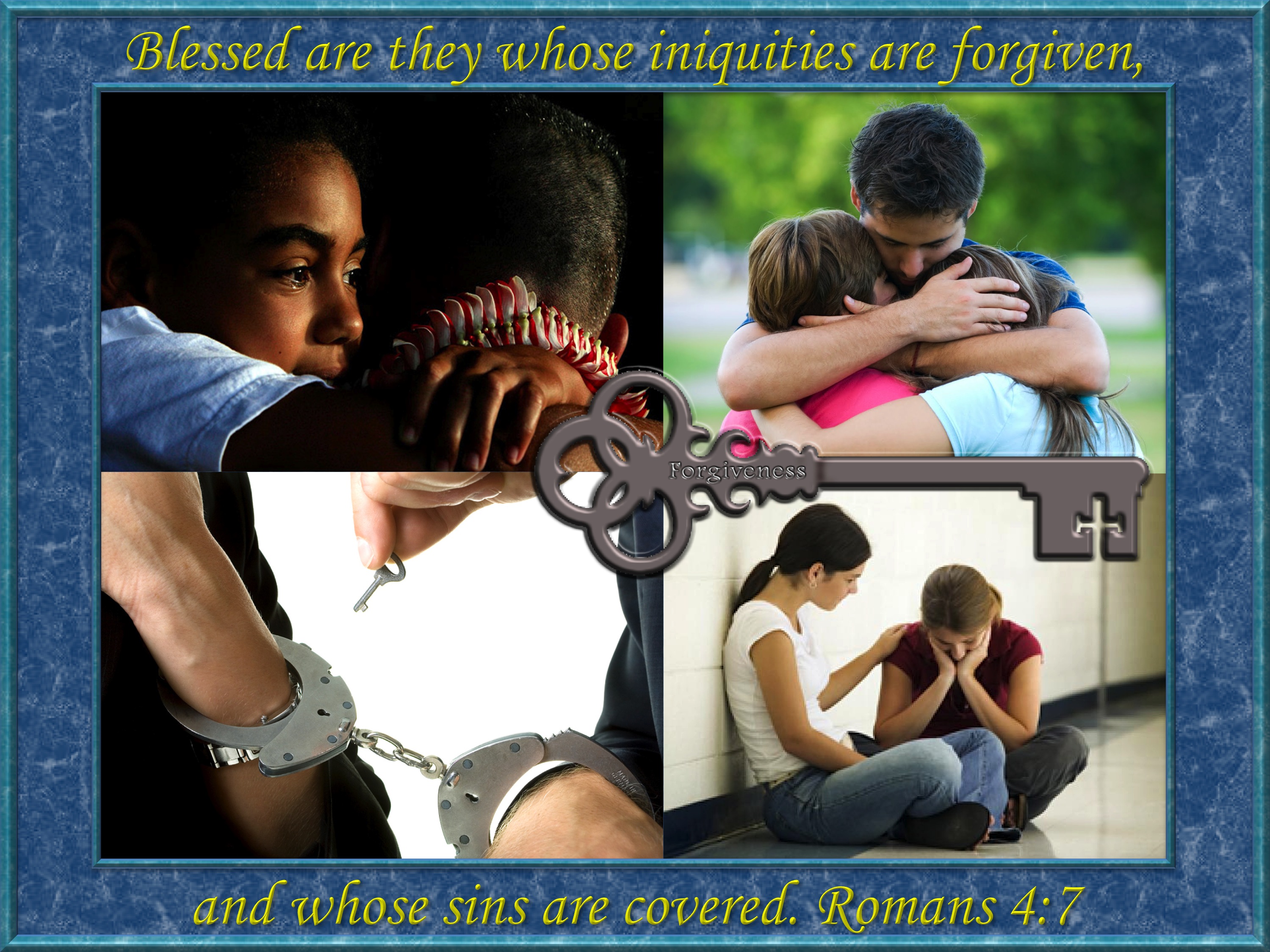 THE SACRIFICE & FORGIVENESS OF JESUS CHRIST


"For, brethren, ye have been called unto liberty; only use not liberty for an occasion to the flesh, but by love serve one another." Gal.5:13

The Bible's standard of love, forgiveness, mercy and care for our fellow man is defined by two principles:

1. True love comes from Above. It is a quality of love that is not natural to the sinful heart. We are spiritually incapable of producing it in and of our own strength. It is a heaven-born gift to those who see the love of Christ and invite His Presence into their hearts. For through the Presence of Jesus Christ living in the soul can we demonstrate this love to our fellow man.
2. "With all thy getting get understanding." Prov.4:7. When we come to terms with the fact that "we wrestle not against flesh and blood" (Eph.6:12) but against Satan and demons, we see the value of Christ's prayer for His executioners who were blind to who was prodding them: "Father forgive them; for they know not what they do" (Lu.23:34).

There are many examples in Scripture of men who fell prey to all manner of temptations leading to sin and wickedness, but who returned to hear GOD'S voice once more and rejoiced in His renewed call to salvation. His "still small voice" led them to repent of their great and many sins, and thus receive pardon and the restored Presence of "the Holy Ghost," as "the LORD" so mercifully said, "I have blotted out, as a thick cloud, thy transgressions, and, as a cloud, thy sins: return unto Me; for I have redeemed thee." "And I will put my spirit within you." Isa.44:22; Eze.36:27. It is wise to note that His forgiveness comes first; then comes the call to believe as it is written, "while we were yet sinners, Christ died for us." Rom.5:8. Scripture then admonishes us: "Let not sin therefore reign in your mortal body, that ye should obey it in the lusts thereof." Rom.6:12.

There is a boundary set forth in the legal framework of GOD'S salvation that is imperative to have an understanding of. It corresponds with the Presence of Christ living in the heart through the power of the Holy Ghost. Sin in the life withholds the Spirit of GOD from dwelling within the heart (Isa.59:2), and therefore the love born of heaven is nonexistent. But it is through the Presence of GOD'S Spirit in the soul that draws us to virtuous living will raise the righteous from the dead at "the first resurrection" (Rom.8:11). Sinful man instinctively bucks at this boundary, but without acknowledging and adhering to the principle the soul sits in spiritual peril.

"Therefore, thou son of man, say unto the children of thy people, The righteousness of the righteous shall not deliver him in the day of his transgression: as for the wickedness of the wicked, he shall not fall thereby in the day that he turneth from his wickedness; neither shall the righteous be able to live for his righteousness in the day that he sinneth. When I shall say to the righteous, that he shall surely live; if he trust to his own righteousness, and commit iniquity, all his righteousnesses shall not be remembered; but for his iniquity that he hath committed, he shall die for it. Again, when I say unto the wicked, Thou shalt surely die; if he turn from his sin, and do that which is lawful and right; If the wicked restore the pledge, give again that he had robbed, walk in the statutes of life, without committing iniquity; he shall surely live, he shall not die. None of his sins that he hath committed shall be mentioned unto him: he hath done that which is lawful and right; he shall surely live. Yet the children of thy people say, The way of the Lord is not equal: but as for them, their way is not equal. When the righteous turneth from his righteousness, and committeth iniquity, he shall even die thereby. But if the wicked turn from his wickedness, and do that which is lawful and right, he shall live thereby. Yet ye say, The way of the Lord is not equal. O ye house of Israel, I will judge you every one after his ways." Eze.33:12-20.

It is because of man's belligerence against this principle that Christ will declare to untold numbers of church ministers, "I never knew you: depart from me, ye that work iniquity." Matt.7:23.

The truth of GOD'S Love will soon lighten the Earth. Soon, GOD'S desire will shine forth to every man, to lavish His forgiveness and receive the sinner's repentance (Rev.18:1-5). Included in this last message of forgiveness will be the warning of sin's threat to the soul. It is only by men's determination to remain in sin and ascribe their own sinful decisions as GOD'S Will that will lead to their destruction. "The LORD" warned His children nearly three thousand years ago: "These things thou hast done, and I kept silence; thou thoughtest that I was altogether such an one as thyself: but I will reprove thee, and set them in order before thine eyes." Ps.50:21.

This is one reason why the millennial judgment is needed. Every soul that is raised in "the first resurrection" and enters Christ's everlasting kingdom will have many questions. And many will be surprised who stands with the redeemed and who does not (Rom.2:13-15). "A thousand years" is prophesied to review the history of sin where every question will be answered concerning GOD'S response to the defiance of Satan, demons and men who chose sin as their rule of life over and above GOD'S forgiveness, warnings and promises. But to "every one whom his spirit made willing" to repent, "to them gave he power to become the sons of God, even to them that believe on his name: Which were born, not of blood, nor of the will of the flesh, nor of the will of man, but of God" (Ex.35:21; Jn.1:12,13). GOD'S desire to love and to serve the wellbeing of all created life will be explored by the great multitude of the redeemed. His decisions will be vindicated in every case showing that GOD always worked redemptively in the lives of angels and men, proving beyond a shadow of doubt the truth of John's words, "God is love."

All of the destruction that has taken place throughout man's brutal history is because a few "evildoers" in every generation have been given the power to decide the ill fate of many. These are Satan's special envoys. History is littered with brutal dictators whose hearts were stone, refusing the gift of GOD'S forgiveness. They would rather die than believe "God is love." And the same evil spirits rule in the hearts of many today. But for those who hear GOD'S invitation He is eager to answer with a promise: "A new heart also will I give you, and a new spirit will I put within you: and I will take away the stony heart out of your flesh, and I will give you an heart of flesh." Eze.36:26.

But for most, when GOD knocks on the door of their hearts the knock goes unanswered. I know this personally. There were many times I knew GOD was calling on my heart. My response: This far, and no further. This is one of sin's many evils: to make the heart callous and remain indifferent to GOD'S call. And the many obstacles that society places between us and a loving Creator the Bible identifies each and every one. The devil's tactics are many: to distract the soul and keep it preoccupied with some sinful lust, frustration, anger, or discouragement. The Apostles of Christ faced great trials in each of these areas. But they came through victorious. And so can we, if the counsel is embedded in the heart and patient perseverance exercised. "I press toward the mark for the prize of the high calling of God in Christ Jesus."

GOD calls His every child to divorce from the ways of the world. "For all that is in the world, the lust of the flesh, and the lust of the eyes, and the pride of life, is not of the Father, but is of the world." Phil.3:14; I Jn.2:16. In this present world the fruits of sin are obvious, with the flood of thefts, lies, betrayal, and murder (whether swift through war or slow through exposure to toxins). The threat is real, but so is the solution. For every sin that is committed, GOD has provided His forgiveness through the sacrifice of "his only begotten Son, that whosoever believeth in him should not perish, but have everlasting life." Jn.3;16. Through the forgiveness Christ has provided us, none need die the eternal death, but to one day live to see the glories GOD has mapped out for all eternity, to hear sounds that always caress the soul and are never discordant, to taste flavors where today's cuisine pales in comparison, to smell aromas that invigorate the soul,—to love and be loved by a GOD Who lives to serve.