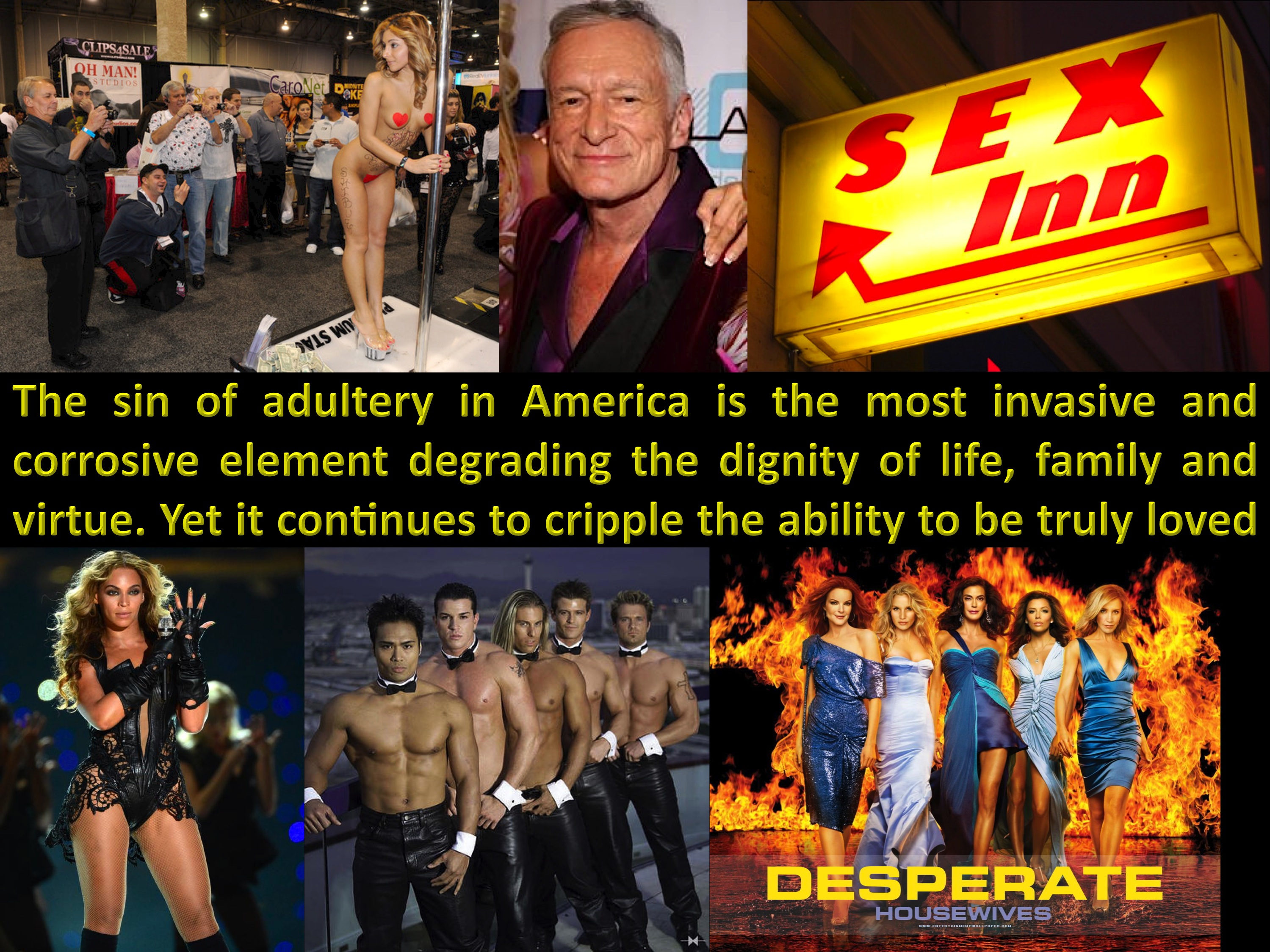 AMERICA'S #1 SOCIAL PROBLEM


There are many reasons America is in a downward spiral: economically, environmentally, socially, spiritually, and morally. Beclouding the mind with liquor, pharmaceuticals, unhealthy diet, and illicit drugs, and even coffee play a large role in destabilizing the emotions, the powers of reason, and the needed willpower to make and to hold wise decisions. But the leading sin motivating our society is the pitiful weakness where men have little or no backbone to stand against: the sin of adultery, in all its forms.

Muslim men will go so far as to degrade the glory of the woman by covering her entirely, denying the dignity that GOD has bestowed to the daughters of Eve. The Muslim's inability to resist the devil's temptation is truly pathetic. This insulting extreme denies the power of GOD to guard the soul from sin. It openly denies the wisdom and fortitude the Holy Spirit provides through the Presence of Jesus Christ.

"Wisdom is the principal thing; therefore get wisdom: and with all thy getting get understanding." Prov.4:7. When men come to understand that Jesus Christ died for every woman as much as every man, and how He desires their victory over sin, and for them to receive the everlasting inheritance along with men, we men will stop viewing the woman solely for romantic pleasure but rather strive in prayer for their salvation as much as for any man.

Multitudes live their lives only for the satisfaction of the moment, never for the promised joy of eternity. Nevertheless, it is the lust of adultery, fornication, masturbation, licentiousness, and every synonym associated with the sin against the seventh commandment: "Thou shalt not commit adultery" that has led to every defilement of the family, the celibacy of the Catholic priesthood, and every sexually transmitted disease. Ex.20:14. The Ten Commandments are there to remind us of where our mutual security in life may be found. And to step outside of their boundaries of jurisdiction a ripple effect is always seen, in our lives and the lives of those around us. History bears this out, over and over. Heartache, toil and pain await all who stand in the wake of their transgression.

While none of us are exempt from the temptations of devils whose sole work is to degrade the dignity of life in all its forms, to educate oneself in the cause and effect of why things are the way they are, and why the common problems never get addressed let alone solved in government, religion, education and law is the key to understand something of why the centuries-old moral virtues that have preserved the family from the beginning are all being overturned today. And all the bitter fruits are there: of heartache, discouragement, and prevention of life's goals. These are the natural result.

Here's a little education on this issue. What is seen on national TV today vs. what was allowed 40 to 50 years ago reveals a huge leap in moral degradation. In fact, if what is allowed today in both language and images were on the television screen in those early days of television they would've all been thrown in jail and condemned by society as unfit for adults, let alone children. But step by step, the allowance for sin's advance took hold. And over time it has now become bold in its displays of open rebellion against virtuous living. And as a result, crime is up, legal lying in business and politics goes unchecked, and American society increasingly provokes sinful deeds from the populous. And the saddest part is that the world's churches likewise provoke sin against Christ "and put him to an open shame." Heb.6:6.

Now, to address the medical side of today's moral degradation there is a law of human physiology that GOD gave to His children. There is a physiological change when there is romance between a man and a woman. There is a hormonal release of Oxytocin into the blood stream. This hormone creates a bond between them. And the bond is STRONG. It draws on our emotions, our sense of loyalty, and our need to love and be loved. So when a husband and wife bond in this way it consummates their relationship in marriage. This is why abstaining from premarital sex establishes a better and more sure foundation for a lasting marriage.

But to have multiple sexual relationships outside of the marriage bond, over time a halting of that hormonal release of Oxytocin takes place in these individuals, and thus effectively cripples their ability to truly bond with anyone. I've known many sluttish men who were incapable of truly loving anyone. They could no longer live in true love, either in its giving or receiving.

Then there are those who were abused in childhood or marriage, or those in prostitution, or a gigolo, or just plain promiscuous in their behavior, these have all too often cut off the flow of Oxytocin: that precious natural hormonal response to bond in the depth of love that GOD ordained for His children's happiness, and the security of the family name for future generations.

Scripture has much to say about preserving one's family name. And great measures were established through heaven-led wisdom to give the assurance that family names would not come to an end. A sweet example of this is found in the book of Ruth when Boaz took her to be his wife: "Moreover Ruth the Moabitess, the wife of Mahlon, have I purchased to be my wife, to raise up the name of the dead upon his inheritance, that the name of the dead be not cut off from among his brethren, and from the gate of his place: ye are witnesses this day." Ruth 4:10. Then there is the fear of having one's name come to an end, as when king Saul said to David who was to replace him as king: "Swear now therefore unto me by the LORD, that thou wilt not cut off my seed after me, and that thou wilt not destroy my name out of my father's house." I Sam.24:21.

This is where the Gospel of Jesus Christ comes in and shines its light. When the invitation is given for Christ to come and live out the wonders of His Law in the grateful soul, a huge restoration takes place. It is a born again experience: the restoration of the experience of true love: the love that comes from above, where Jesus receives the supreme gratefulness and adoration. And through His Presence inspiring us with His faith and His wisdom residing in the willing heart the transformation takes place, from a loveless life to one of a love-filled life. He or she can now return to the virtuous strength found in marital, maternal and filial love that was lost through the indulgence of sin.