Many learned men have given lectures on the outcome of nations that give sanction to indifference and self-serving greed. Among them was Jesus Christ. Among his many discussions is one showing the contrast between the two forms of government competing for the supremacy of this world. These two governments were perfectly illustrated in a conversation that took place between Jesus and His Apostle Peter. The theme of this passage defines the true meaning of love. Two different words for love were used in the Apostles' original Greek text of this passage. Jesus used the word, agape to represent GOD'S manner of love, while Peter used the word phileo to represent Man's version of love. When we examine the meaning of these two very contrasting words (in light of the deeds of Christ verses the deeds of Peter) we become enlightened to the precious lesson that all people deserve to understand. In John 21:15 we read:
"So when they had dined, Jesus saith to Simon Peter, Simon, son of Jonas, lovest thou Me [with unselfish love] more than these [the other disciples]? He saith unto Him [with his head lowered], Yea, LORD; Thou knowest that I love thee [with a limited, selfish love]. He saith unto him, Feed My lambs. He saith unto him the second time, Simon, son of Jonas, lovest thou Me [with a love that will seek the other's well-being regardless of the cost to yourself]? He saith unto Him, Yea, LORD; Thou knowest that I love Thee [only with a futile love that exerts in vain]. He saith unto him, Feed My sheep. He saith unto him the third time, Simon, son of Jonas, lovest thou Me [with merely a limited, selfish love]? Peter was grieved because He said unto him the third time, Lovest thou Me [with a failing love]? And he said unto Him, LORD, Thou knowest all things; Thou knowest that I love Thee [with the only love I am capable of]. Jesus saith unto him, Feed My sheep."
A short time after this conversation came the day of Pentecost. On this great day for the human race the Apostles of Christ received the promise of GOD'S presence in their lives through the gift of the Holy Spirit; and accompanying His presence was heaven's gift of agape love. This free gift is offered to all. Said Christ, "If ye then being evil know how to give good gifts unto your children, how much more shall your heavenly Father give the Holy Spirit to them that ask Him." Therefore, you and I, the weakest of the weak can demonstrate the same Love to our fellow man that drew GOD Himself to redeem a fallen race. It is this Love that the vast majority of people are at war with, including most professed Christians, because agape demands the abandonment of sin, and freedom to sin has become more important to them than GOD'S deliverance from it. Every Christian should take Peter's words to heart: "And if the righteous scarcely be saved [referring to those whose names are on the church books], where shall the ungodly and the sinner appear?" I Peter 4:17,18.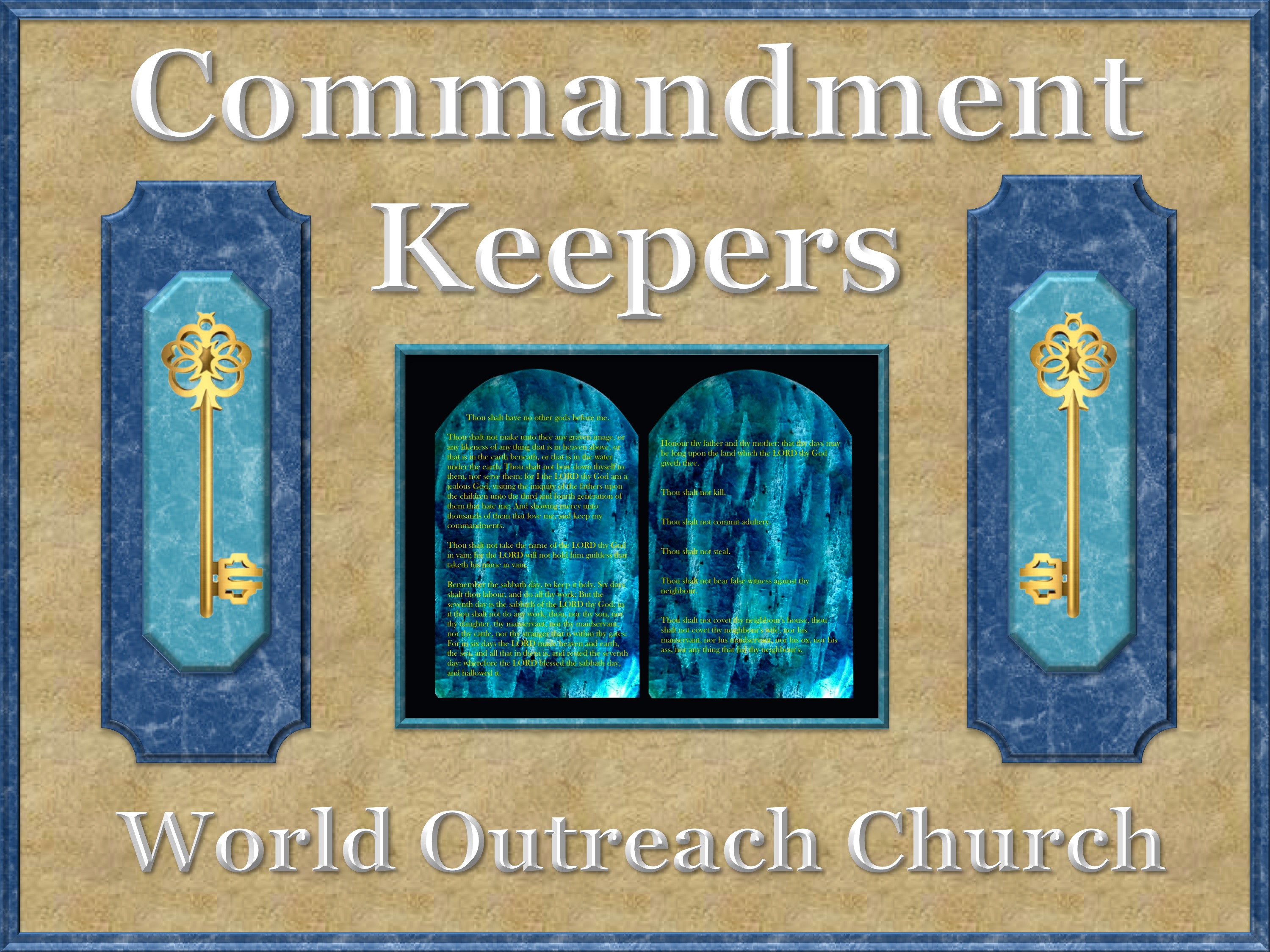 Commandment Keepers invites every Christian to join the closing work of the Gospel of Jesus Christ and establish twelve member groups within your respective country, heralding the titles: Commandment Keepers Kenyan Assembly, British Assemby, Brazilian Assembly, etc. As the Bible teaches, the redeemed of earth will come from "every nation, and kindred, and tongue, and people." Rev.14:6. And all will have stood faithful to Christ's Words, "But if thou wilt enter into life, keep the commandments." Matt.19:17.
To meet the specific cultural needs of the different peoples of the world, a custom tailored witness is vital for successful evangelism. While the message of Salvation through the Creator/Christ is universal in its scope, people's cultural affections vary greatly from land to land. What can bring tears of joy to one group can actually harden the hearts of another.
To receive this ministry outline click "The Evangelists" below. It contains all the materials needed to succeed in this invaluable type of ministry.
Two reasons for the need of small church companies at this time in history:
1. There are six branch ministries, which cover all areas of the closing gospel work, providing each member with an invaluable task. Teamed up in pairs for each of the branch ministries, none will sit on the sidelines, feeling useless, and where each have equal value to the success of the ministry's work.
2. Economic streamlining has become an essential factor in the closing work. As America and other countries proceed in their place in Bible prophecy a structure of ministry must be in place to carry out the Savior's closing work on the minds and hearts of the people just at the time it is needed the most.
This efficient, low cost approach to the closing work will be lavished with GOD'S blessing. Each of these small church companies will be given an eloquent, persuasive testimony by GOD: to share in the most privileged work on Earth: enlightening the world with His Glory: His redeeming love found in the truth, as the truth is in Jesus:" as Creator of heaven and earth; what He has done: as bearing the punishment for the sins of men; and what He is doing: interceding on behalf of His faithful children who are continuously accused of the devil; and what He will do: deliver His faithful children when He comes again.
Through His Presence, Guidance and Intervention, the faith of Bible literate and obedient Christians will swell to a lofty summit, preparing them for the coming of the LORD.
Lastly, no tithe is required except to budget your ministry's needs.
Liberty Seminars: Bible Prophecy: Your Key To The Future
Commandment Keepers
2116 Linden Highway
Hohenwald, TN 38462