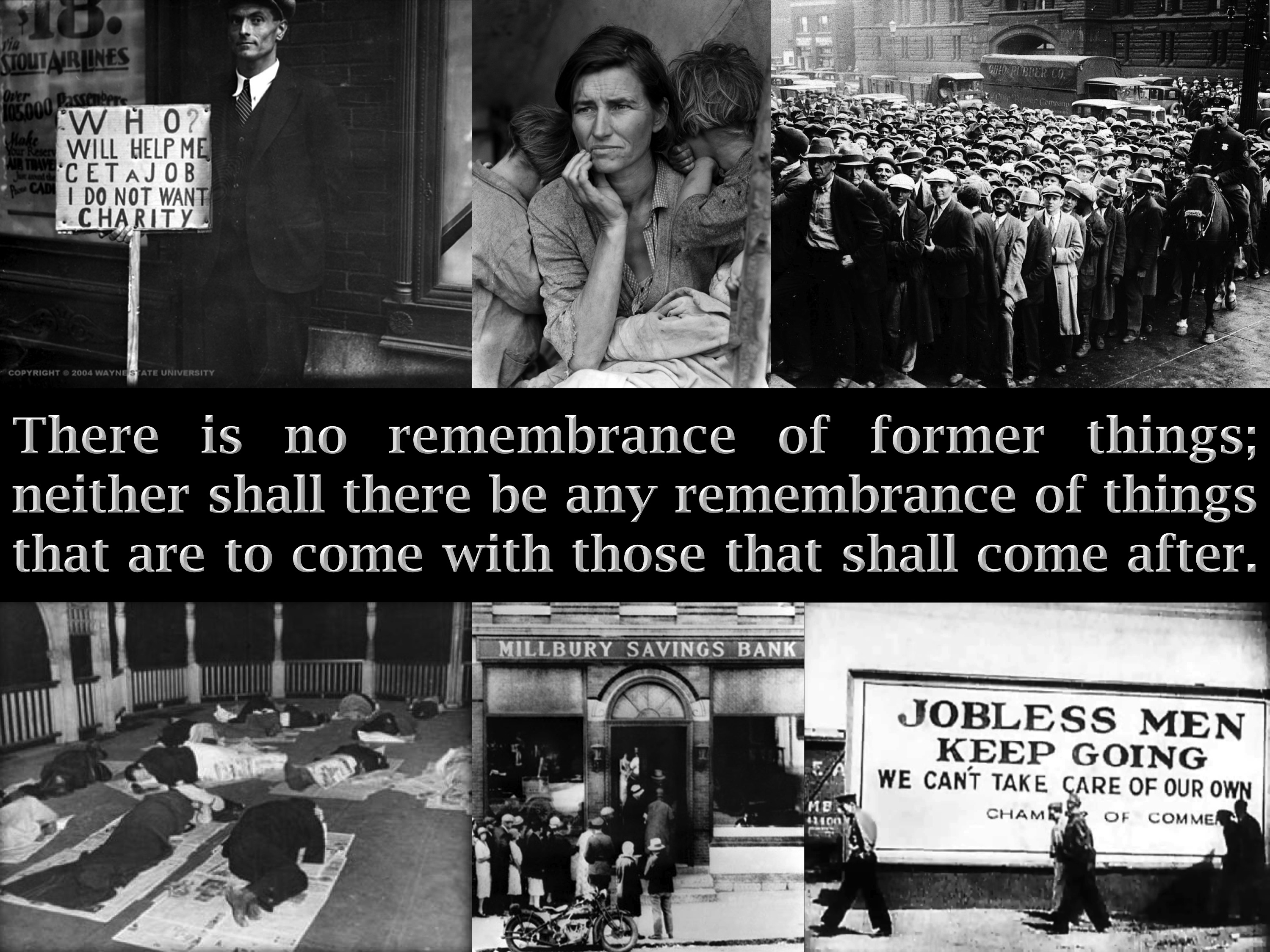 THE GREAT DEPRESSION:
THE LESSONS LEARNED THEN
AND THEIR APPLICATION TODAY


Memory Text: "The thing that hath been, it is that which shall be." Eccl.1:9.

After the stock market crash of 1929 and the ensuing hardships that men faced over the next decade, there was a general decency seen throughout the land of America. There were no violent riots, no smashing of store fronts, no looting of whatever their lustful hearts could grab. No, no. There was just a calm patience and hope that the nation would recover, with every man, doing what he could to provide for his family within the bounds of ethical motivation.

The same cannot be said today should another equivalent economic ruin take place. The character of the average American today is not the same as it was then. The emotional instability due to our fundamentally immoral lifestyles and unhealthy diet: all of these contribute to display a frail character that fosters an untrustworthy individual, even in basic terms. Just look at all the deliberate lying in politics and business. And no one rebukes it!

In our generation, the psychotic mentality of mob rule has displayed a level of violence that is pathetic. Even over simple injustices the emotional exaggerations are as illogical as they are immoral. So when basic provisions of life-support are removed the base metal of man's character will be seen in its true nature: a temperament that is deplorable to behold.

In the Great Depression, the cities bore the brunt of the hardships. And in this brief review of the events of those days, it is hoped that you, my dear friends on facebook who live in densely populated areas will give careful, prayerful consideration to search out the means to leave the cities and become a part of the rural community.

Some facts of the Great Depression: Millions of Americans had no money. People were eating from the trashcans every day. Having lost their homes and jobs they were sleeping on the streets, bus stations, train stations, using whatever material they had to stay warm; even using old newspapers for bedding and blankets.

The common denominator between all the afflictions was simple: the greatest suffering was seen in the densely populated areas. In 1930, over half of the population lived in urban areas. Today, over 80% live near cities. During the Depression, 1 in 5 were involved in agriculture. Today, it is just over 1 in 100. Our dependence on electricity, trucking, fuel, pesticides and government subsidies guarantees that should an economic ruin come to America, (which is prophesied to come) the desperation for our personal survival will increase exponentially. Men will sell themselves as slaves to stay alive. While others will form bands of hoodlums, pillaging anything and anyone around them. Studies have shown that the average American who goes without 3 meals and doesn't know when the next meal is, will become homicidal.

But there is a lesson seen from the Great Depression that gives us hope. During the depression there were those who were not afflicted with these urban threats. They were the Amish, the Mennonites and the farmers along with those common folk who had a clean water source via spring or hand pump for their well, sufficient land for gardens, wood stoves, canning jars, and a root cellar. Although they too were poor, their life-support provisions were all in place. And their supply of food saw them through the cold winter months.

The Bible forecasts another great depression that stands on the horizon of our day. And this one will be far more severe than what transpired during the 1930s. The prophet Daniel forewarned of this time of human history. It is so severe that it will usher the 2nd Advent of Jesus Christ, Who will rescue His chosen from the destruction that is pending in our day. What today's Christianity teaches vs. the Biblical view of the 2nd Advent is as different a night and day. This is why having correct expectations in Bible prophecy is imperative at this time. A destruction is coming that will plunge America and then the whole world into a level of desperation unheard of, as it is written: "And at that time shall Michael stand up, the great prince which standeth for the children of thy people: and there shall be a time of trouble, such as never was since there was a nation even to that same time: and at that time thy people shall be delivered, every one that shall be found written in the book." Dan.12:1

The cause of the "time of trouble for Jacob" (Jer.30:7), as with all hardships men face, is due to sinful men in leadership in government and religion, whose judgment is unfit to lead their own lives, let alone the lives of others. This is among the most repeated lessons of history, and yet, the hardness of men's hearts keeps them blind to eternal things.

Nevertheless, sinful, ungodly men will legislate sin into federal law. This is the focus of the prophecy of Revelation 13:11-18, whose pinnacle will be the death decree against "they that keep the commandments of GOD and the faith of Jesus." Rev.14:12. This consolidation of evil men is due to the devil's long held objective to remove Christ from the Earth, (in the person of His saints): "And the dragon [Satan] was wroth with the woman [the church of Christ (Jer.6:2)], and went to make war with the remnant of her seed [a small number within the church], which keep the commandments of God [all Ten Commandments, not 8 or 9], and have the testimony of Jesus Christ [which is the Spirit of prophecy" (Rev.19:10)]." Rev.12:17.

But the LORD has set forth sufficient promises for those who follow His Word and Spirit: "Alas! for that day is great, so that none is like it: it is even the time of Jacob's trouble; but he shall be saved out of it." "When the poor and needy seek water, and there is none, and their tongue faileth for thirst, I the LORD will hear them, I the God of Israel will not forsake them." "I give waters in the wilderness, and rivers in the desert, to give drink to my people, my chosen." "He shall dwell on high: his place of defence shall be the munitions of rocks [in the remote areas of the wilderness]: bread shall be given him; his waters shall be sure." Jer.30:7; Isa.41:17; 43:20; 33:16.

The LORD also gives prophecy warning all those with hard, unrepentant hearts who are held responsible for so much suffering and loss of life, all because they chose sin to rule over the sinless Christ. "Therefore thus saith the Lord GOD, Behold, my servants shall eat, but ye shall be hungry: behold, my servants shall drink, but ye shall be thirsty: behold, my servants shall rejoice, but ye shall be ashamed: Behold, my servants shall sing for joy of heart, but ye shall cry for sorrow of heart, and shall howl for vexation of spirit. And ye shall leave your name for a curse unto my chosen: for the Lord GOD shall slay thee, and call his servants by another name: That he who blesseth himself in the earth shall bless himself in the God of truth; and he that sweareth in the earth shall swear by the God of truth; because the former troubles are forgotten, and because they are hid from mine eyes." Isa.65:13-16.